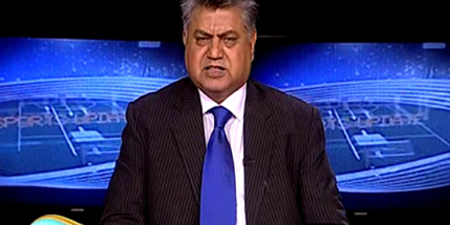 JournalismPakistan.com July 15, 2018


ISLAMABAD - Murtaza Solangi, host of show Awaam on Capital TV, is angry with Pakistan Tehreek-e-Insaf (PTI) youth, whom he pejoratively calls "youthia".
In a tweet on Sunday Solangi, who served as DG Radio Pakistan during the last Pakistan People Peoples (PPP) government, termed the PTI supporters as "fascist thugs" for "attacking every conscientious journalist…"
He added that his whole life is marked by the struggle against dictators and he is ready for battle if Imran Khan becomes prime minister after the July 25 polls. "We have fought and defeated your big daddies from Ayoob to Mushy the coward. Even if Taliban Khan is installed as a puppet, he will meet the same fate. Bring it on."
The PTI supporters did not respond mildly to Solgani's tweet. Their attacks made the veteran journalist even angrier as he told one of them to "go to hell".