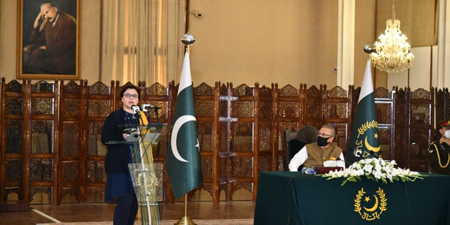 JournalismPakistan.com December 24, 2020


ISLAMABAD—President Arif Alvi has agreed to suggest the Ministry of Information have a gender audit of news organizations conducted to assess the number of women journalists and media workers.
He expressed concern that the majority of women journalists had lost their jobs during the prevailing media crisis.
The president said this at a consultation organized under the "National Initiative to Address Gender-based Discrepancies for the Promotion of Legal Economic and Social Empowerment of Women."
Representatives of civil society organizations, women rights activists, journalists, and issue experts attended the consultation, which ended with presentations on recommendations from different groups.
The consultation was also attended by Federal Minister for Education Shafqat Mahmood, Federal Minister for Climate Change Zartaj Gul, Federal Minister for Human Rights Shireen Mazari, Federal Minister for Information Shibli Faraz, Federal Minister for Law and Justice Farogh Naseem, Special Assistant to Prime Minister (SAPM) Sania Nishtar, SAPM Faisal Sultan, Governor State Bank Raza Baqir, and Parliamentary Secretary for Law and Justice Maleeka Bukhari.
The group of women in media comprised Asma Shirazi, Naseem Zehra, Fareeha Idrees, Tanzeela Mazhar, Myra Imran (pictured), Nighat Dad (Digital Rights Foundation), and rights activist Ms. Nayab.
Presenting the recommendations from the media group, Myra Imran, Vice President Rawalpindi-Islamabad Union of Journalists (RIUJ), briefed the president on the current media crisis and its impact on women journalists. She said that according to a rough estimate of the Pakistan Federal Union of Journalists (PFUJ), 15,000 journalists and media workers had been laid off, and women journalists were the first to become the victim in most cases. She demanded a gender audit of media organizations to assess the number of women journalists and media workers and their facilities like washrooms and daycare centers.
She also talked about women's physical and online harassment and suggested a special desk at the Federal Investigation Agency (FIA) to deal with harassment women journalists face. She said that if any political party office-bearer or official was found involved in online harassment of women journalists, they should be condemned by the party. She suggested that social media cells of all political parties be registered with the Election Commission of Pakistan and a code of conduct devised for such cells.
She said that FIA should be held accountable for their performance in dealing with harassment cases registered by women journalists. She also called for restarting consultation with stakeholders on the Prevention of Electronic Crime Act (PECA).