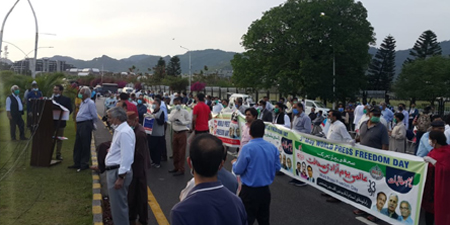 JournalismPakistan.com May 05, 2020


ISLAMABAD—Pakistan Federal Union of Journalists (PFUJ) has pledged to continue its fight to safeguard rights of journalists and freedom of speech and expression in the country.
On Press Freedom Day, the body launched the second phase of 'Sahafi Bachao' movement and arranged countrywide sit-ins in support of their six-point demands. They include withdrawal of announced and unannounced ban on press advice, restoration of retrenched journalists and clearance of pending dues with government and media houses, law for service structure in TV channels, abolition of all laws and regulations designed to compromise press freedom, restoration of 25 percent fixed quota for regional newspapers and abolition of centralised policy, immediate implementation of wage board award and measures for safety and protection of journalists during the coronavirus pandemic.
Day long protests were held in Islamabad, Lahore, Quetta, Peshawar, Hyderabad, Sukkhur, Multan, Gujranwala, and Abbottabad along with other cities and towns of all four provinces and Gilgit-Baltistan.
In Islamabad, Federal Minister for Information and Broadcasting, Shibli Faraz addressed the participants in front of the Parliament House and assured his full support to the journalist community for resolution of their long standing issues and demands.
"Pakistan Tehreek-e-Insaf (PTI) government will take all possible measures for resolution of their financial problems and will play the role of media industry's advocate, in relation to their genuine issues and find a durable way out," Faraz said.
He added that he will have a meeting with the representatives of journalists on Tuesday to find a viable solution to their problems and clearance of dues before Eid-ul-Fitr.
Other who spoke on the occasion included PFUJ Secretary General Nasir Zaidi, Afzal Butt, Arshad Ansari, Asif Ali Bhatti, Amir Sajjad Syed, Shakeel Anjum and Hamid Mir. They highlighted issues confronted by the media industry and journalist community particularly censorship, retrenchments, layoffs, ill-devised advertisement policy and non-clearance of dues pending with government agencies.
"Unity in our ranks will bear the fruit of our struggle for resolution of our issues and demands and assurance of press freedom," Zaidi said in his speech.
Addressing the sit-in in front of Quetta Press Club, PFUJ President Shahzada Zulfiqar urged the federal government to end unannounced censorship and give relief to the media industry, which should be linked with clearance of workers' dues. "The government has to pay outstanding dues of Rs6 billion to media houses. We want a guarantee that these dues will be cleared," he said.
He also demanded bailout packages for press clubs, provision of safety kits for journalists visiting hospitals or quarantine centers and martyrdom status if a media worker died of COVID-19, performing his/her duty.
"A policy must be formulated concerning journalists' children and their education," he said.
Balochistan Union of Journalists (BUJ) President Ayub Tareen and Quetta Press Club President Raza uR Rahman in their respective speeches said there was no freedom and no vibrant media rather a controlled one which was contrary to government claim of democratic order in the country.
In Hyderabad, Khalid Khokhar and in Sukkhur Lala Asad Pathan addressed the protests.