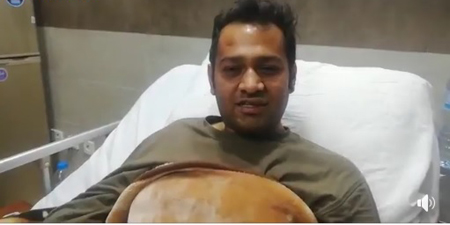 JournalismPakistan.com December 18, 2018


ISLAMABAD – Samaa TV cameraperson Wajid Ali attacked by Nawaz Sharif's bodyguards on Monday, said from his hospital bed he could not recall who had hit him.
In a video message, he said all he remembered was somebody assaulted him from behind and he fell to the ground. "I have no idea who kicked me in the head."
Television footage of the incident outside the Parliament House showed Ali lying seemingly unconscious on the ground when a bodyguard comes running and kicks him in the head.
He said he did nothing that could have provoked anyone.
He thanked his colleagues and friends for their get-well wishes. "I am fine now, and Inshallah will be back with them in the field soon."