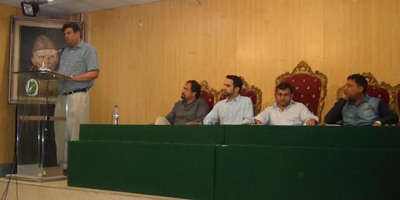 JournalismPakistan.com April 26, 2015
ISLAMABAD: The government harbors political motives behind cybercrime bill and wants to stifle freedom of expression and freedom of speech through the legislation.
This was stated by some experts and activists on Sunday during an interactive session organized by National Press Club, Islamabad and a group of working journalists.
Usama Khilji, an IT expert and activist with Bolo Bhi, said the government failed to take civil society and representatives of IT industry into confidence over the Cybercrime Bill 2015.
"In a democracy, it is unfair for a government to come up with legislation on a sensitive issue without active participation of the citizens and relevant stakeholders," he said.
He said the government wants to serve its political objectives through the legislation as some of the clauses of the bill infringe upon freedom of expression of the citizens.
"If the bill is passed in its present form, the government will get the legal powers to block news websites, blogs, Facebook and Twitter accounts," he said.
Khilji, however, said that he is not against the whole bill but some of its clauses must be amended before final adoption by the Parliament.
The Cybercrime Bill 2015 was recently passed by a National Assembly Standing Committee on Information Technology which the experts say is controversial and needs amendment.
Tahir Malik, Professor at National University of Modern Languages, said that a society cannot progress without critical thinking and fair competition to acquire modern techniques and skills.
"All segments of the society including journalists, doctors and engineers should be engaged to raise voice against the cybercrime bill as it is bound to curtail freedom of expression if passed by the Parliament," he said.
Malik said the mainstream and social media are the modern age tools that help democratic governments to address social issues like poverty and crime.
"Unfortunately, our rulers are heavily influenced by monarchs of Saudi Arabia where even department of political sciences doesn't exist in their universities," he said.
Shaharyar Khan, President National Press Club, likened the cybercrime bill to Press and Publication Ordinance promulgated by President Ayub Khan in 1960.
"It is unfortunate that a democratic government wants to impose a law on journalists and the citizens that even dictators failed to do," he said, adding the journalists concerns about the bill would be conveyed to the government.
Khan warned that if the government tried to pass the bill in its present form, then journalists would stage protest demonstrations against the government across the country, besides blocking coverage of parliamentarians.
Speaking on the occasion, Syed Ahmad, a representative of Pakistan Software Houses Association, said the cybercrime bill in its present form will hamper foreign investment in the IT industry.
"The government should not consider the technology a threat to it and must consider amendments to some of its controversial clauses," he said.
Business models of news organizations are changing as they are fast turning to Internet and social media, he said, adding the government should apply forward thinking to strengthen journalists instead of curtailing their freedom of expression.