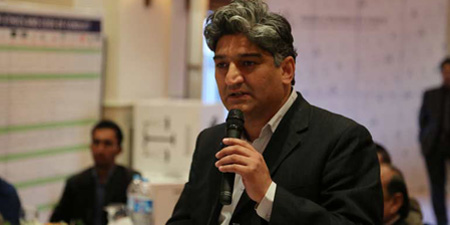 JournalismPakistan.com November 13, 2018


ISLAMABAD - The sacking of four journalists is creating a perception that the "powerful establishment" is trying to limit the freedom of expression, according to an article on the Urdu website of German radio DW.
It says Matiullah Jan (Waqt TV), Nusrat Javeed (DawnNews TV), Murtaza Solangi (Capital TV) and Talat Hussain (Geo TV) have been sacked for various reasons but adds that the four backed democracy and criticized the establishment.
"I think the establishment wants to bring in structural changes in the country," Matiullah told DW. "Under these structural changes, the politicians will be compliant or will be irrelevant. But in the presence of an independent media, such a change is not possible. Therefore the voices criticizing and questioning are being silenced."
Mati maintained that the establishment has helped a number of persons get jobs in the mainstream media. "Their only task is to berate politicians and vilify against journalists." He said over the passage of time, a number of people who have nothing to do with journalism have become journalists.
He criticized the journalists' associations, saying they are divided and cannot do anything except staging protests. He also took a swipe at the owners of the media houses, saying they are sacking workers under the guise of financial crunch. "A media group sacks 150 workers but also gets a license for an airline. If the group was facing financial crunch, how it can run an airline?"
Mati sees more tough days for journalism in Pakistan, with little space for freedom of expression.
However, some people think that the ban on the freedom of expression is already in place in Pakistan. But veteran journalist M. Ziauddin says the ruling PTI government is not behind this ban. "It is an outcome of a dictatorial mindset of our establishment."
Some journalists say the parliament seems to be oblivious to the issue of shrinking space for the freedom of expression in Pakistan. However, Senator Hasil Bizenjo disagrees. He says he raised the issue of media's freedom of expression in the parliament but regretted that media did not give coverage to it.