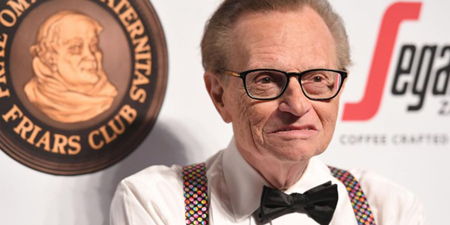 JournalismPakistan.com January 23, 2021


WASHINGTON —Larry King, the broadcast interviewer whose non-confrontational style attracted celebrities and newsmakers as guests and made him the star of a top-rated US cable talk show, has died. He was 87.
King died on Saturday morning (Jan 23) at Cedars-Sinai Medical Centre in Los Angeles, according to a statement on his official Twitter account.
The cause of death was not provided but he had spent time recently undergoing treatment for Covid-19. He had bypass surgery following a heart attack in 1987 and later was treated twice for cancer.
King, the host of a popular night-time radio call-in show in the 1970s and 1980s, vaulted into nationwide prominence after CNN owner Ted Turner persuaded him to join his fledgling network in 1985.
His show, Larry King Live, became a popular TV interview program whose fans included former president George H.W. Bush. King interviewed every sitting president from Gerald Ford to Barack Obama.
After 25 years on cable, King announced in 2010 that he would retire, having slipped behind Sean Hannity at Fox News and Rachel Maddow at MSNBC in cable ratings. By the time he left, he estimated he had done about 50,000 interviews during more than a half-century on radio and television. He won an Emmy award for lifetime achievement in 2011.
In his CNN program, King got a rating spike from Mr. Ross Perot, who announced on the air in 1992 that he would run for the president as an independent. In 1993, Vice-President Al Gore and Mr. Perot debated the North American Free Trade Agreement (Nafta) on King's show, the highest-rated cable program for more than a decade.
King interviewed world leaders, including Russian President Vladimir Putin, performers such as Lady Gaga, and an assortment of athletes, actors, national heroes, and unknown individuals suddenly tossed into the limelight. Marlon Brando famously kissed King on the lips on-air – as did his onetime girlfriend Angie Dickinson, the sultry TV actress.
King said he left it to his producers to pick his guests and did not prepare much, preferring to ask simple questions and listen carefully to the answers.
President Putin on Saturday offered his condolences.
"King repeatedly interviewed Putin. The president has always appreciated his great professionalism and unquestioned journalistic authority," Kremlin spokesman Dmitry Peskov was quoted as saying by state RIA Novosti news agency.
King, who pitched a variety of products on radio and TV, used his show to raise funds for disaster relief after natural disasters hit New Orleans and Haiti.—Agencies/Photo: AFP