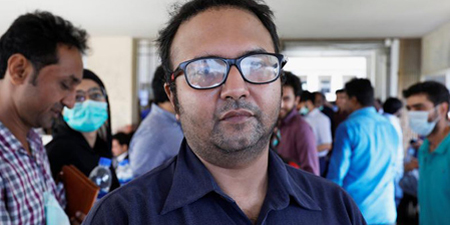 JournalismPakistan.com September 14, 2020


The Express Tribune journalist Bilal Farooqi (pictured), arrested by Karachi Police on September 11 for posting allegedly anti-military and sectarian posts on social media, was released on September 12.
The International Federation of Journalists (IFJ) and its affiliate the Pakistan Federal Union of Journalists (PFUJ) are concerned by the arbitrary arrest and warn the Pakistan government against any efforts to silence dissenting voices.
Farooqi was arrested at his residence in Karachi after a resident of Majeed Colony in Landhi filed a First Information Report (FIR) accusing him of sharing 'highly provocative posts' against the Pakistan Army and inciting religious hatred.
According to Karachi Police chief, Additional Inspector General (AIG) Ghulam Nabi Memon, Farooqui was arrested under Sections 500 (defamation) and 505 (statements conducing to public mischief) of the Pakistan Penal Code and Sections 11 and 20 of the Prevention of Electronic Crimes Act (PECA).
Farooqi was released on September 12 on a "personal guarantee" from his lawyer, Jibran Nasir, after the police officer's preliminary investigation report showed that Farooqi had not committed any offense under Pakistan Penal Code's Section 505 (statements conducing to public mischief) and Section 500 (punishment for defamation). Two other accusations against him still stand.
The arbitrary arrest of journalists and their release following a public outcry is becoming more common in Pakistan. In a similar incident, Matiullah Jan, a senior Pakistani journalist was abducted in broad daylight on July 21 in Islamabad and then released late at night on the same day near Fateh Jang, Punjab.
The PFUJ Secretary General Rana Azeem said: "The PFUJ urges the authorities to carry out a thorough investigation before making an arrest. Arresting journalists arbitrarily is not acceptable."
The IFJ said: "The arbitrary arrest and detention of the journalists is one of the strategies authorities in Pakistan have used to silence independent voices. The IFJ urges the Pakistan government to respect freedom of press and expression and ensure that journalists are not harassed and intimidated for doing their job."- IFJ media release/Photo: Reuters