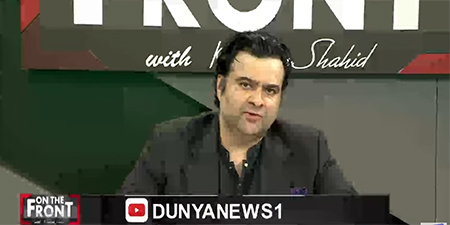 JournalismPakistan.com November 10, 2022


ISLAMABAD—The investigation into the killing of journalist Arshad Sharif in Kenya took a new turn after Dunya News claimed he was tortured for three hours before being murdered.
The program On the Front with Kamran Shahid showed photos of the alleged torture inflicted on Sharif.
The program host Kamran Shahid (pictured) claimed in his show that the murderers pulled Sharif's nails, bruised his wrists, and broke his fingers and ribs before shooting him. The channel also allegedly showed Sharif's body, which indicated signs of torture and a bullet wound.
Kamran said in his program that the Kenyan police statement of the murder being a case of mistaken identity had no solid ground as the postmortem report tells another story.
In an initial reaction to this report, Sharif's widow Javeria Siddiqui said that her spouse was very modest and introverted and had left the country because he wanted to avoid torture during the investigation. She requested not to share pictures of Sharif's body parts as it would hurt the family's sentiments.
PTI's Shahbaz Gill said that the group which tried to promote the narrative of Sharif's killing being a case of mistaken identity was now providing evidence of his murder.
Earlier, Federal Interior Minister Rana Sanaullah claimed in a press conference that a private TV channel arranged Sharif's stay in Kenya.