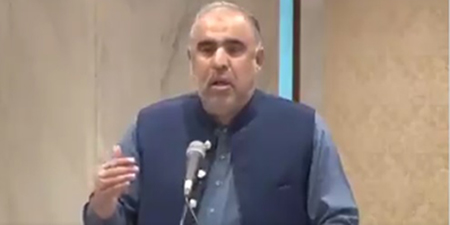 JournalismPakistan.com September 19, 2021


KARACHI— In his speech during the joint parliamentary session, President Arif Alvi acknowledged the role of media in curbing the spread of coronavirus. But as he glanced towards the Press Gallery, he was visibly surprised to see that nobody was present there.
English daily Business Recorder, in its recent editorial, noted this. It accused the speaker National Assembly Asad Qaiser of the undemocratic and unparliamentary order of closing Press Gallery.
Who had ordered the lockout of the Press Gallery, the paper questioned, mentioning that "Initially, Information Minister Fawad Chaudhry feigned ignorance. He, however, later added: "It might have been closed by the Speaker because of coronavirus."
According to the paper, in the past also the Press Gallery would become vacant when reporters would stage walkouts to protest on some issues. However, ministers would rush to them to persuade them to return to the Press Gallery.
"The reporters had threatened to boycott the presidential address as part of their protest against the proposed Pakistan Media Development Authority (PMDA)," the paper noted, emphasizing that "It seems some smart aleck had ordered the closure of Press Gallery to preempt media protest against the planned government step."
"It is widely believed that the Speaker of the National Assembly was behind the Press Gallery closure," the paper mentioned. "He [Speaker NA] should, therefore, share the blame for this undemocratic and unparliamentary act. He seems to have compromised his neutrality in the negation of his oath of office," the paper concluded.