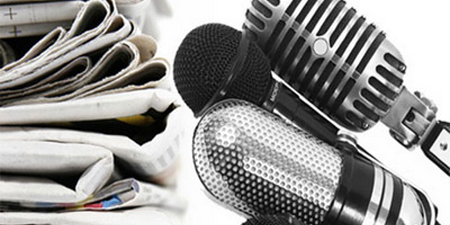 JournalismPakistan.com December 30, 2016 Daud Malik



ISLAMABAD - Media in Pakistan remained in the news itself as it largely continued the trend of partisan coverage, especially of political events, throughout 2016. PEMRA flexed its muscle, imposing bans and fines on erring TV channels. The introduction of DTH had had to face legal hurdles, as social media played aggressive political role with fake news industry duping Pakistan's defence minister into issuing nuclear warning to Israel.
For the first time in 15 years the Committee to Protect Journalists (CPJ) said it "did not identify anyone singled out for murder in Pakistan because of journalist work" in 2016. For the watchdog, a murder is the "targeted killing of a journalist, whether premeditated or spontaneous, in direct relation to the journalist's work".
However, on August 8, Mehmood Khan, of DawnNews, and Aaj TV's Shehzad Ahmed, both cameramen, were killed in a bomb blast at the Quetta Civil Hospital. They had arrived at the hospital to cover the murder of Balochistan Bar Association president. Overall 70 people, mostly lawyers, died in the blast.
On September 1, renowned journalist and former bureaucrat Zahid Malik passed away in Islamabad at the age of 78. Born on October 5, 1937, he was founder, editor-in-chief and publisher of daily Pakistan Observer.
Eminent journalist Naushaba Burney, wife of I H Burney, died in February after a prolonged illness. She was 83. Rashid Ali Siddiqui, former president of Pakistan Sports Writers Federation (PSWF), died on January 30. He was 55. Rashid worked for PPI, The News, Express media group and Daily Jinnah.
On January 13 Rangers personnel searched the house of The New York Times correspondent Salman Masood in Islamabad as part of a "terrorist search operation".
The killer of Ayub Khattak, a journalist from Khyber Pakthtunkhwa, was given life term on March 16 along with a fine of Rs5 million. Khattak was killed on October 11, 2013 when Aminullah fired shots at him near his residence in Takht Nusrati area.
Also in March, Saddam Hussain, brother of journalist Zeenat Shahzadi, who had gone missing some eight months ago while on the trail of an Indian citizen reported to have been caught by Pakistani agencies, committed suicide in Lahore. According to his elder brother Salman, the boy emotionally attached to his missing sister was disturbed by her mysterious disappearance.
On July 15 social media celebrity Qandeel Baloch was murdered in Multan by her brother. A month before her death she had demanded security from the interior ministry, citing death threats. Qandeel's murder led to legislation aimed at removing the family's ability to forgive "honor" killers.
On May 20 PEMRA banned shows dramatizing crimes such as rape, murder, robberies and suicide. In a notification the authority said: "Standing committees of Senate have recommended the authority ban crime re-enactment shows. Lahore High Court, during the hearing of a petition, ordered banning such programs and Punjab Assembly passed a resolution calling for a complete ban on such shows." In a Dawn poll, two-third (65.81%) of the readers agreed with the ban on such shows.
Emotions ran high in 2016. MQM workers after a fiery speech by Altaf Hussain in August attacked the office of ARY News in Karachi. One person was killed in the violence ensuing after the speech. The same office was the target of a grenade attack on January 13 in which a video editor, Umar Hayat, was wounded.
However, the bigger shock for ARY News was losing libel case in UK in December, which was brought in by Editor-in-Chief of GEO/Jang Group Mir Shakil-ur-Rehman over allegations that he had links with foreign spy agencies and had taken covert funding from foreign governments to promote their agenda and committed blasphemy. According to Owen Bennet-Jones, "in a legal first for the UK, ARY was forced to announce that the judgment found that 24 ARY programs about Mir Shakil-ur-Rehman…were not only 'seriously defamatory' but also 'simply had no foundation'".
After the verdict in December, Dawn called for a sensible libel law in Pakistan to protect individuals and organizations against wild allegations and slander.
On August 11 PEMRA banned ARY News show Live with Dr Shahid Masood for 45 days after the analyst alleged the son of the Sindh High Court chief justice was kidnapped because the judge, after taking bribe, did not honor his commitment.
In August also, PEMRA slapped fines of Rs500,000 each on a number of TV channels for airing incorrect news about the marriage of PTI chairman Imran Khan. The channels fined included Dunya, Geo, Neo, Royal News, Khyber News, Channel 24, Channel 92, News One, Such TV, Roze News, Channel 5 and Geo Tez.
On April 29 a team of ARY News show Sar-e-Aam was arrested on orders of Sindh Home Minister Sohail Anwar Siyal for carrying out a sting operation that proved security was poor at the assembly, He was however released on bail a day later. One of the team members produced the concealed weapon inside the assembly hall before shocked lawmakers.
However, the biggest media upheaval of the year was Dawn's October 6 story - Act against militants or face international isolation, civilians tell military by Cyril Almeida. It led to tensions in civilian-military relations and the debate on national interest, promotion of Indian agenda, and allegations of unpatriotic conduct.
Almeida was put on the ECL before being taken off. The government after thrice denying the story formed an inquiry commission which is currently probing the matter. The story also divided the journalist community. Columnist Haroon Rashid firmly believed the article was an outcome of anti-Pakistan agenda while novelist Mohammad Hanif came to Cyril's defence, criticizing the columnist for making false accusations. It also generated debate on protecting sources.
Also in October, a video clip showing an FC guard slapping a reporter of K-21 channel went viral on social media. The 29-second clip showed reporter Saima Kanwal trying to grab the guard's collar. Both parties registered cases against each other before settling the matter out of the court. The painful incident generated a heated debate on media ethics, code of conduct and behavior of electronic media journalists.
After many months of troubles and tangle with the law, BOL News finally switched to its regular transmission on December 25. For over two months, the channel ran its test transmission. Three days before the launch, BOL and Geo traded bitter accusations after news surfaced of an Axact executive being charged by a US court in a fake degree scam.
The channel ran into problems with the authorities that prevented its launch in 2015. The trouble began when a New York Times story in May 2015 claimed BOL's main company Axact was engaged in business of selling fake degrees to students. This led to the arrest of CEO Shoaib Ahmed Shaikh and several of his managers who languished in jail for 15 months before being set free. The channel's licenses were also suspended.
In November Hamid Mir received the "most resilient journalist" award by the International Free Press. In 2014, Mir survived an assassination attempt while he was on his way to Geo's Karachi office.
The trend of partisan coverage of political events in Pakistan continued throughout 2016. The plan to lockdown Islamabad announced by Pakistan Tehreek-e-Insaaf over Panama leaks on November 2 clearly divided the media into two groups – recalling the days of PTI sit in the capital city. The campaign against the judges of the Supreme Court in the background of Panama case hearing led the Attorney General of Pakistan to suggest to the interior ministry and the information technology division to criminalize the slander of judiciary on social media.
On November 19 the Supreme Court initiated contempt of court proceedings against Din News for airing an image of an alleged private meeting between Justice Amir Hani Muslim and Senator Nehal Hashmi of the Pakistan Muslim League-Nawaz regarding the Panamagate case pending in the apex court. In the same month PEMRA suspended the licenses of Din and Neo channels for one month and seven days besides imposing fines for allegations against the judge.
Mazher Mahmood, a British journalist known for his "fake sheikh" undercover sting operations for media mogul Rupert Murdoch's tabloids, was jailed for 15 months on October 21 for tampering with evidence in a high-profile trial. Mahmood, 53, carried out the undercover inquiry which led to the 2011 conviction of former Pakistan cricket captain Salman Butt, Mohammad Asif and Mohammad Amir for taking bribes to fix incidents in a match against England.
In December, Minister of State for Information and Broadcasting Maryum Aurangzeb announced that the government would bring in law in 2017 for the security and safety of journalists. The proposed law will be tabled in consultation with CPNE and other stakeholders.
On December 29 during a meeting of the National Assembly's Standing Committee on Information and Broadcasting, a ruling party MNA Waseem Akhtar Sheikh suggested that PEMRAban anchorpersons found guilty of wrongly accusing individuals. He said imposing fines was not enough. He maintained that Mubasher Lucman in a program on September 21 on Neo TV alleged that Sheikh had occupied graveyard land. The MNA said he took the matter to PEMRA's council of complaints which fined Lucman only Rs1 million.