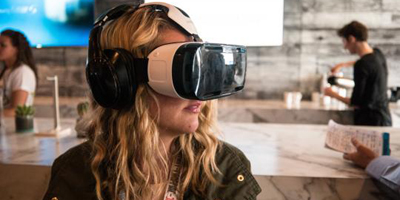 JournalismPakistan.com November 18, 2015


ISLAMABAD: Virtual reality is the new face of journalism allowing us to remember and feel with our body and not just mind the story, says Nonny de le Pena, a senior research fellow at the American School for Communication and Journalism at the University of South California.
"What if I could present you a story that you would remember with your entire body and not just with your mind," she asked at the start of her talk on The Future of Journalism? Virtual Reality at Ted, a nonprofit devoted to spreading ideas, usually in the form of short, powerful talks.
Talking about her experience of working with virtual reality for reconstructing a story, she said: "I can put you on scene in the middle of the story. By putting on these goggles that track wherever you look, you get this whole-body sensation, like you're actually, like, there."
Ted introduces her as the CEO of Emblematic Group, who uses cutting-edge technologies to tell stories — both fictional and news-based — creating intense, empathic engagement on the part of viewers. She has been called "The Godmother of Virtual Reality" by Engadget, while Fast Company named her "One of the People Who Made the World More Creative" for her pioneering work in immersive journalism. A former correspondent for Newsweek, de la Peña has more than 20 years of award-winning experience in print, film and TV. Her virtual-reality work has been featured by the BBC, Mashable, Vice, Wired and many others, and been screened around the globe at museums and gaming conventions. De la Peña is an Annenberg Fellow at the University of Southern California's School of Cinematic Arts.
Her first journalistic work with virtual reality was on hunger in America. "Families in America are going hungry, food banks are overwhelmed, and they're often running out of food. I knew I couldn't make people feel hungry, but maybe I could figure out a way to get them to feel something physical." Pena and her intern started visiting food banks and recording audio and photographs. "Until one day she (the intern) came back to my office and she was bawling, she was just crying. She had been on scene at a long line, where the woman running the line was feeling extremely overwhelmed, and she was screaming, 'There's too many people! There's too many people!' And this man with diabetes doesn't get food in time, his blood sugar drops too low, and he collapses into a coma."
As soon as she heard that audio, she knew that this would be the kind of evocative piece that could really describe what was going on at food banks. When she created the scene of the man going into coma because of low blood pressure at the food bank, it had an emotional and moving effect on the people who put on the goggles to be among the people at the food bank. Some were careful not to step on the body of the man while others were in tears. "People down on the ground trying to comfort the seizure victim, trying to whisper something into his ear or in some way help, even though they couldn't. And I had a lot of people come out of that piece saying, 'Oh my God, I was so frustrated. I couldn't help the guy,' and take that back into their lives."
Capturing the experience of man going into coma at the food bank brought in more work. "The dean of the cinema school at USC, the University of Southern California, brought in the head of the World Economic Forum to try "Hunger," and he took off the goggles, and he commissioned a piece about Syria on the spot." She sent a team to the border of Iraq to record material at refugee camps and recreated a street scene in which a young girl is singing and a bomb goes off. "Now, when you're in the middle of that scene and you hear those sounds, and you see the injured around you, it's an incredibly scary and real feeling. I've had individuals who have been involved in real bombings tell me that it evokes the same kind of fear."
According to Pena, when the Syria scene was shown at the Victora and Albert Museum in London, "over a five-day run we ended up with 54 pages of guest book comments, and we were told by the curators there that they'd never seen such an outpouring." And mostly the people said they felt as if they were there with the girl singing just before the bomb blast.
Pena also recreated the killing of Trayvon Martin, a 17-year-old African American from Miami, who was shot by George Zimmerman, a neighborhood watch volunteer. "We got the architectural drawings of the entire complex, and we rebuilt the entire scene inside and out, based on those drawings. All of the action is informed by the real 911 recorded calls to the police. And interestingly, we broke some news with this story. The forensic house that did the audio reconstruction, Primeau Productions, they say that they would testify that George Zimmerman, when he got out of the car, he cocked his gun before he went to give chase to Martin."
At the end of her talk, Pena insisted that the use of virtual reality was not going to change the basic tenets of journalism. "We're still following the same principles that we would always. What is different is the sense of being on scene, whether you're watching a guy collapse from hunger or feeling like you're in the middle of a bomb scene." For her the use of virtual reality is persuading people to take some action. "These things have had impact. I've had Americans tell me that they've donated, direct deductions from their bank account, money to go to Syrian children refugees. And 'Hunger in LA,' well, it's helped start a new form of doing journalism that I think is going to join all the other normal platforms in the future."