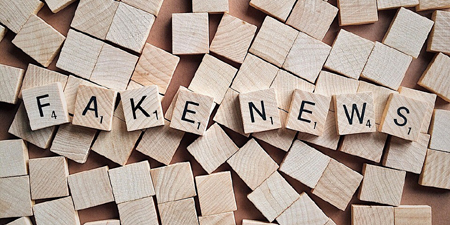 JournalismPakistan.com December 10, 2016 Daud Malik



Journalism after witnessing many changes over the last two decades has entered the age of fake news. This age is going to last for quite some time unless Internet users use judgment and think twice before forwarding every post and comment.
Efforts are being made by journalists to verify what comes online, though the fake news industry is working overtime. Additionally sending out any news, fact, or picture online is easy, verifying its authenticity takes time, just as comment is free but facts are sacred.
According to The Guardian, fake online news is distorting politics around the world. In Germany, the paper says, "the most blatant example of fake news…reports that a 13-year-old girl of Russian origin, known as Lisa F, had been raped in Berlin by refugees from the Middle East. The story received extensive coverage on Russian and German media who reported the allegations that she had been abducted on her way to school and gang-raped. The attack turned out to have been fabricated, as Berlin's chief of police was quick to point out."
However hundreds took to streets to protest the attack as the Russian Foreign Minister, Sergey Lavrov, accused the German government of "sweeping the case under the carpet."
In Pakistan fake news is shared with impunity. The latest example is the fake audio clip of screaming passengers on board PIA's PK661 just before it crashed near Abbottabad this week. Currently tweets of Jemima Goldsmith, ex-wife of Imran Khan, have also been shared in which she shares how she gave money to PTI chief for buying his Banigala house. A list of top journalists who have allegedly taken money from property tycoons, political parties etc. surfaces from time to time on social media.
When it is pointed out to the sender that they have shared wrong information, the standard answer is "forwarded as received." Sometimes the sender knows the information is not reliable but still he shares it with the message "forwarded as received."
The name of late poet Ahmed Faraz is perhaps used with complete freedom in poetry which is not his and is substandard. Allama Iqbal and Faiz Ahmed Faiz also face similar treatment. Attributing wrong quotes to people who have died years and centuries ago is also a standard and normal practice on social media.
The fake news is first circulated on the social media before the mainstream media, mainly electronic, picks it up. The Guardian says after India's prime minister announced the introduction of a new 2,000-rupee note last month, phones around the country lit up with the news the bill would come installed with a surveillance chip, linked to a satellite that could track the notes even 120 metres underground. "The claims, debunked by the country's reserve bank, nonetheless spread like fire over Whatsapp – which has more than 50 million users in India – and migrated into mainstream news."
A website – verificationhandbook.com – launched by European Journalism Center helps journalists and anyone else to verify digital content for emergency coverage. It says "in a crisis situation, social networks are overloaded with situational updates, calls for relief, reports of new developments, and rescue information. Reporting the right information is often critical in shaping responses from the public and relief workers; it can literally be a matter of life or death."
The fight against fake news is still in its infancy. Is it a crisis for journalism or an opportunity for it to assert itself as a profession? It is time to go back to the days of strong editors, who demanded facts from reporters before publishing their work. Otherwise in the age of citizen journalism, everyone is a journalist and no one to check what is being published.