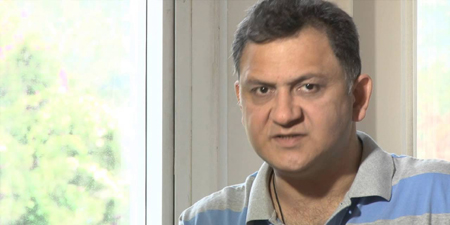 JournalismPakistan.com January 20, 2017


ISLAMABAD - The news was big-flashed on various television channels when PTV sacked its Director Sports Dr. Nauman Niaz.
To many, he deserved the sack fully. He has been posted as Officer on Special Duty (OSD) and it has opened up a few slits.
While he held the office he created a handful of enemies. Highbrow that his success made him, he didn't let many anchors grow under him. He provided opportunities to several anchors and some of them were weeded out justly some unjustly becoming his worst enemies.
He was arrogant, abrasive, high-headed and not a team man. Most of the people who worked or tried working with him had much more to say. It is also believed, some of them were genuinely hard done and the criticism may well be valid.
Quality of content on PTV Sports provided it the cutting edge the 'one man show' managed it all. However graphics, promos, voice overs and technical facilities were below average. Dr. Nauman should accept the blame for not improving these aspects while he was being 'over-exposed' on screen. He mostly promoted cricket on PTV Sports and neglected football and other games. So he tried imposing his personal interests on viewers rather than to make it viable and a complete sports channel. Was this the reason or only ICC events and Pakistan cricket sells and rest of the sports earn no or negligible revenue?
This was Dr. Nauman's weakest link, why he failed doing it, may be it had to do something with the organizational issues. Let us believe he was the 'worst' thing that happened to PTV and PTV Sports. He was PTV's core problem and he didn't allow many talented youngsters to come up. Let us also believe he was the biggest villain and not worthy of being Director Sports & Syndication of the PTVC.
There are some questions we need to ask? Is Dr. Nauman a celebrated name in cricket? Did his anchoring create the difference? Is a brand in sports industry? Is PTV Sports the No. 1 channel within the Pakistan territory? Is it highest on ratings? Did PTV Sports earn revenue between Rs1.2 billion to Rs1.9 billion since its inception? Did he bring the ex-foreign players to Pakistan regardless of it also being made controversial that he paid more than their worth? Who decided their worth? And has Najam Sethi gone on air saying they were ready to pay more to the foreign players to come to Lahore and play in the PSL 2017 final?
Dr. Nauman, was removed over a row, signing a contract with Karachi Kings owned by ARY Communications. Haters must continue to hate him, those not given opportunities whether deserving or undeserving, numbers couldn't be hidden. He has been one of the most successful Director Sports & Syndication of the PTVC and seemingly has broken all records of being the most controversial too.
An eccentric and mostly single-minded he couldn't carry with him a large battery of aspiring journalists, commentators and anchorpersons, also his image dwindled when payments were delayed and the local talent wasn't ever paid on time. Recently, he has been described as head-strong. Hands on, Dr. Nauman has been criticized for not delegating powers to his subordinates and often his blunt views on screen left quite a few at the PCB deeply irked.
Dr. Nauman was over exposed on screen and could have abstained from appearing on thrice weekly shows and could have only appeared during the international series. He didn't strike a balance. No quality youngster was groomed under him and he hasn't left his replacement.
When JournalismPakistan.com contacted Dr. Nauman after an article was published against him on January 18th in which he has been alleged as having destroyed PTV Sports, he wasn't available for comment. Did he really destroy PTV Sports?
Why was he made an OSD? Principally and morally it was wrong, if PTV Sports could make Quetta Gladiators and Islamabad United as their media and brand partners what was wrong with the Karachi Kings. PSL is owned by the Pakistan Cricket Board of which Prime Minister is the Patron. If Najam Sethi who surely has a conflict of interest working with one of the television groups and also being PCB's Executive Committee Head and also at the helm of the PSL. Interestingly, if Sethi could be photographed smiling with ARY's CEO why wasn't he reprimanded? It should have been done on equality.
Karachi Kings may well be owned by Salman Iqbal of the ARY Communications Limited, however, it is one of the most expensive franchises of the PSL run by the PCB. If PCB could earn money from ARY-owned Karachi Kings what was so wrong PTV doing it?
If Karachi Kings was a legitimate recognized franchise of the PSL like Lahore Qalandars, Islamabad United, Peshawar Zalmi and Quetta Gladiators then why there is government's discriminatory stance against PTV Sports becoming their media and brand partners.
Insiders say that Dr. Nauman had submitted a proposal which recommended having three franchises Karachi Kings, Islamabad United and Peshawar Zalmi as media and brand partners to the Managing Director of the PTVC and she had given the executive approval. Surprisingly Nauman has been made the scapegoat while the MD remains unharmed.
It is also an open secret that one of the leading media groups had not been able to swallow PTV Sports' unprecedented success attempting several ways to thwart its growth. It's about the ICC Rights (2015-2019) and the PCB International Rights (2015-2019) the most potent revenue generators, and as competitors they had been left high and dry after PTV Sports picked up all the rights until 2019.
The conspiracy is much deeper than it appears. The media group interested in the ICC Rights 2015-2019 despite having faintest chances to acquire the content went to the Complaint Commission of Pakistan (CCP) alleging PTV Sports were cartling with TenSports to keep the third party out. They also went to court against the PCB for awarding domestic rights to PTV Sports and both cases went in favor of the state-owned channel.
Deeper still, one of the ex-managing directors of the PTVC having his private company, an association with one of the sports channels within the Pakistan territory also working in one of the companies owned by a newspaper group has not been able to take his foot out of PTV. Some of the directors and managerial staff report to him though they work at the PTV. It was a grand plan, bad financial management at the PTVC saw despite PTV Sports' cricket events having return on investments (ROI) between 250% to 450% piled up principle payments to the main licensors Star India and TenSports. The pendency escalated close to Rs1 billion. There were forces within and outside the PTVC intending to see PTV Sports defaulting, their bank guarantee of US$8.5 million furbished in the wake of ICC Rights to Star India to be called and to see Government of Pakistan embarrassed. Under the Companies Ordinance 1984, PTVC is a Public Limited Company. This Companies Ordinance makes Government of Pakistan as the 100% shareholder and guarantor of the PTVC.
There have been many problems which PTV Sports faced since within the organization and outside had become an individual centric and Dr. Nauman despite all the impediments was still managing to run the channel into profits and it was attracting sponsorships. The profits were also made controversial, the financial treatment of the channel saw them not adding part of the license fee of approximately Rs7 billion annually to PTV Sports despite it airing all the big tournaments and series on terrestrial network. It could be dodgy as PTV Sports was acquiring all the rights based on their terrestrial networking and still they weren't given any part of the fee whilst it was being parked at the PTV Home and PTV News making their numbers looking fat. Ironically, the finance department of the PTVC added unprecedented administrative expenses which showing a loss of Rs 580 Million.
PTV Sports earned record revenues from the ICC World Cup 2015, the Asia Cup T 20, 2016 & ICC World T 20, 2016 still such was the financial management that PTV stood on the verge of defaulting. An insider reveals Dr. Nauman saved PTVC from defaulting by getting Star India and TenSports to agree upon monthly installments from June 2016 until December 2016 and managed to lessen the debt paying Rs 500 million.
It was in February 2015 when the Department of Sports PTVC led by Dr. Nauman risked their reputation and future by inviting ex-international stars including Jonty Rhodes, Herschelle Gibbs and Damien Martyn, an out of the box proposition. It clicked and Game on Hai the pre and post-match show was an instant hit. In all PTV Sports broke all records attracting net revenue of Rs1.39 billion out of which Rs300million came from Game on Hai a show hosted by Dr. Nauman himself. Alistair Campbell, Sanath Jayasuriya, Dean Jones, Mark Butcher, Marvan Atapattu, Robin Smith, Ajay Jadeja, Brian Lara, Glenn McGrath, Andrew Symonds and Sir Curtly Ambrose all appeared during 2015-16. Various views were given, the foreigners were being hired at higher prices than their worth, or bilingual shows were not serving the 92 % audience on terrestrial networks.
Interestingly, total payment made to all these stars including boarding, lodging and remuneration cost PTVC Rs89 million and the revenue collected from 2015 to end 2016 was more than Rs3.0 billion. Foreigners in Islamabad and appearing on a state channel also created an impact, soft image of Pakistan besides allowing the Pakistan Cricket Board to exploit their presence while making attempts to invite current international players to play in the PSL 2017 final at Lahore.
Game on Hai which eventually attracted Wasim Akram, Shoaib Akhtar, Saqlain Mushtaq, Mohammad Wasim and Rashid Latif, the best panel one could imagine sitting together in a show were hired to marginalize the 'bilingual propaganda', and interestingly they had slightly less ratings than what the foreign players were getting, still it became the best show, Dr. Niaz being a brand hosting it. High on content and technical knowledge despite average sets and graphics Game on Hai was the highest on ratings in Pakistan (sports programming).
The number game is also interesting. Performance of PTV Sports could be adjudged from the numbers in all from January 2012 they have acquired content worth Rs4151.6 million and have earned Rs6795 million, a net income of Rs2644.0 Million on content.
Making PTV Sports irrelevant? Does it going to help a large media group now close to the Government of Pakistan to acquire the rights when bids are opened in 2018 for the next five years? Reasons behind Dr. Nauman's removal have more to it, one smells the rat.