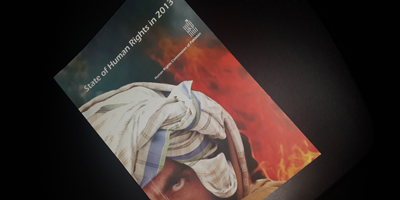 JournalismPakistan.com April 24, 2014
ISLAMABAD: The Human Rights Commission of Pakistan (HRCP) said Thursday it is concerned at signs of disunity among the media and called for unity in addressing challenges.
HRCP General Secretary I. A. Rehman, speaking at the launch of their annual report - State of Human Rights in 2013 - said allegations leveled against the security agencies in the aftermath of the attack on television anchor Hamid Mir were serious.
"We need to give time to investigators to come up with results," he said while adding he was against banning any media group.
He said the HRCP was concerned over attacks on journalists. The annual report says 11 Pakistani journalists were killed and several others injured doing their work in 2013 and impunity continued for perpetrators.
The report said Pakistan stands 159th out of 179 countries on the World Freedom Index. It pointed out that curbs on Internet grew, YouTube was not revived and other websites were blocked without prior intimation.
In its recommendations to improve freedom of expression, the HRCP recommended:
1. People's access to documents pertaining to the working of government, budget allocations, surveys and inquiry reports should be ensured without reservations and delay.
2. Prosecution and conviction of the killers of journalists should be ensured so as to deter fresh attacks. The journalists facing threats should be provided security.
3. Journalists, especially those working in conflict and tribal areas, should be given health and life insurance and provided support commensurate with the risks they face. The family of deceased or disable journalists should be compensated.
4. The government should refrain from banning, blocking and restricting access to website and pages on the Internet. Websites such as YouTube and others should be unblocked.