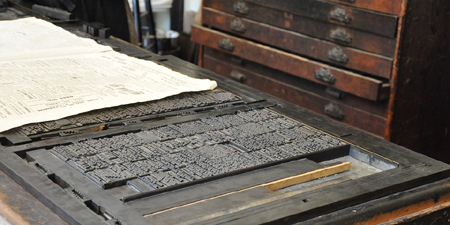 JournalismPakistan.com November 16, 2013 Daud Malik

With hundreds of newspapers, TV channels and FM radio stations, Pakistani media today report everything under the sun – well almost everything. And there is no fear of being permanently closed down, save for financial reasons.
Everyone's views get space in print and on the airwaves – from the maker of the car running on water to talks with TTP to serious looking experts calling each other 'jahil' while debating Malala's book.
The heartrending stories of the young men going missing in Balochistan and being 'found' dead are also part of the media reporting today.
On the other hand the infighting between the media houses, the lament over every cricketing loss, the ever-increasing living cost and reports on fashion shows form part of our daily media circus.
However, there were times when reporting would lead to closing down of newspapers and arrests of editors.
On November 7, 2013 Dawn's section that recalls news of 50 years ago said: Publication banned, editors arrested. The small news item on November 7, 1963 says the West Pakistan's government banned the publication of Daily Kohistan for reporting a students' demonstration. Apart from slapping two months ban, the Managing Editor, Sheikh Hamid Mahmud, and the Chief Editor, Nasim Hijazi, were arrested. The arrests, according to the news, were made under Section 16 of the West Pakistan Maintenance of Public Order, which came to be more known as MPO.
Born on 14 May 1914 in village Sojaanpur in East Punjab, as a prolific writer Nasim Hijazi (Mohammad Sharif) made a name for himself as author of romantic historical novels such as Akhari Chattan, Shaheen, Daastan-e-Mujahid, and those on the partition such as Khaak-o-Khoon.
However, in his book The Press in Chains, late Zamir Niazi gives another account of the closing down of the paper – an account which involved staff rivalries and efforts to take over the paper. Though the government said the action of closing down the paper was taken for the publication of false and baseless news, Niazi says: "In fact, there was more to it including the rivalries and differences in the staff." Kohistan, according to Niazi, was a "widely circulated paper with a print order of 80,000 copies. Plans were afoot to bring out its Karachi edition as well."
But at the same time trouble was brewing in the paper. Quoting Abdul Karim Abid, who was news editor of Kohistan's Multan edition, there was a tussle going on between Nasim Hijazi and Enayatullah Khan over the issue of sharing profit with the employees. According to Abid, "Enayatullah's stand was that the paper's success was due to the efforts of the staff. Hence they should get their share in the profits which the paper was making. A majority of staff…supported Enayatullah. Their differences created a critical situation. Ultimately a strike notice on the management."
According to Abid, Enayatullah was planning to bring out Mashriq but "before that he wanted to ruin Kohistan. Finally, Enayatullah , along with many others, left and started Mashriq."
On November 7, 1963, the paper was banned for three months and the editor was arrested. Abid laments the loss of a paper which supported democratic forces in the country. For him, a conspiracy was planned to bring down a dynamic Urdu newspaper. "Since its policy was disliked by Governor Nawab Amir Mohammad Khan of Kalabagh, a conspiracy was hatched by some of the officials against the paper. The bureaucrats, who were close to the governor, helped Enayatullah."
However, Abid thinks that Mashriq "dominated the field" and its success was "due to sheer hard work and efforts of Enayatullah and his capable team…".
According to a thesis paper by Mumtaz Umar (http://prr.hec.gov.pk/Thesis/1773.pdf), Nasim started his journalistic career from Daily Hayat, and then joined Daily Zamana – both publications coming out from Karachi. Afterwards he joined Weekly Tanzeem, which was published from Quetta, and also became involved with Pakistan movement.
After partition, Nasim came to Rawalpindi to join Tameer, which he soon left to team up with Chaudhry Enayatullah to bring out their own newspaper – Kohistan – in 1953. Started from Rawalpindi, Kohistan soon became a popular newspaper, especially after it started its Lahore edition.
The thesis says, Kohistan was purchased by the Convention Muslim League (one of the many established by military rulers) but "at the end of Ayub Khan's rule, this paper became the sole paper of Jamaat-e-Islami."
Nasim again joined the paper but the defeat of Jamaat in the 1970 General Elections led to Kohistan's permanent close down.
(The writer is a senior journalist who has worked for The News and Dawn)