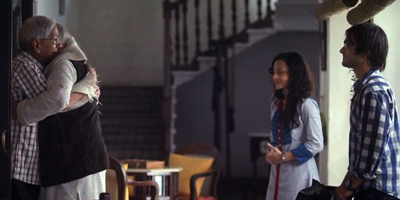 JournalismPakistan.com November 17, 2013
NEW DELHI: An advertisement by Google depicting two childhood friends who are tearfully reunited following their separation during the partition of India and Pakistan has gone viral online, reflecting demands in the two countries for closer people-to-people ties.
The 3:33-minute video, titled "Reunion", has racked up more than two million hits since it was posted on YouTube on Thursday.

It revolves around the friendship of two boys who were separated 66 years ago following the South Asian subcontinent's independence from British colonial rule and its subsequent partition. The advertisement explains how the two fictional characters are brought together by younger relatives using Google searches to reunite the pair.

After the India-based man tells his granddaughter about how he and his friend used to steal "jhajariya" (a type of sweet) from a shop close to "an old gate" in Lahore, the girl uses the clues to search on Google and eventually track down his long lost friend. She contacts the Pakistan-based friend's grandson who also trawls Google for advice on how to obtain an Indian visa and the advertisement ends with an emotive surprise reunion in India on the birthday of one of them.

Internet users left thousands of comments on social networking sites describing how the advert had brought them to tears and renewed their hopes for improved relations between the two neighbors. "Google brought nations together in 3 minutes 32 seconds. The politicians of both countries couldn't do this in 66 years," wrote Akshaya Aradhya on Google's official Facebook page.

"Wonderful campaign highlighting all the similarities and shared experiences instead of the differences," added another user under the name Pakistanis for Peace. The 1947 partition, which saw some of the bloodiest rioting in South Asia, separated hundreds of thousands of families in India and Pakistan.

Cross-border travel in initial days was difficult as the two South Asian neighbors, now nuclear-armed, fought three wars since they became two separate entities.

Pakistan and India kicked off peace talks in 2004 which saw the easing of cross-border travel rules but often militant-led attacks in India have become a stumbling block towards normalization of bilateral ties.
While a mobile phone revolution has led to an explosion in handset ownership, the development of high-speed connections enabling Internet browsing has remained slow in billion-plus India. - AFP