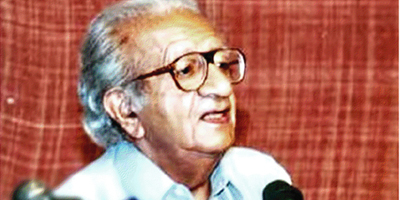 JournalismPakistan.com November 21, 2012
ISLAMABAD: Shafqat Tanveer Mirza, a former editor of Imroze newspaper died of cancer on Tuesday in Lahore. He was 80. According to The Express Tribune, the late writer and journalist was popularly known as STM.
He was born on February 6, 1932, in Domeli, district Jehlum and studied at schools in Chakwal, Khushab, Wazirabad, Attock, Bahawalnagar and Gordon College, Rawalpindi.
Shafqat worked for dailies Tameer and Hilal in Rawalpindi as well as Radio Pakistan. In 1970, he joined Musawat. Later, he remained associated with Imroze where he became the editor.
As a journalist union leader, Shafqat was sent to jail twice - the first time during his struggle for Musawat, and later in the campaign for The Pakistan Times.
He also taught at Shah Hussain College until it was nationalized. After Imroze closed down, he joined the weekly Viewpoint before joining Dawn in the mid-1990s.
STM contributed regular columns on Punjabi language and culture until his death.
He was awarded the Presidential Award for Pride of Performance in 2005.
Besides writing several books in Punjabi and about Punjabi language and literature, he also translated a number of works from English literature into Punjabi. These included Lahoo Suhaag and Boha Koe Na. He also wrote a book, Shah Hussain, in Urdu and translated the Seraiki prose of Sachal Sarmast into Punjabi in Akhia Sachal Sarmast Nay.