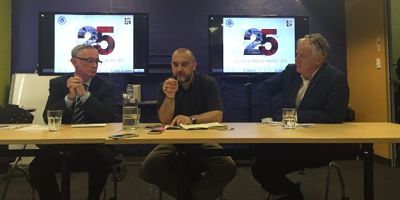 JournalismPakistan.com February 11, 2016


SYDNEY - The International Federation of Journalists (IFJ) and its Australian affiliate the Media, Entertainment & Arts Alliance (MEAA) launched the IFJ 25th Killed List report, Journalists and Media Staff Killed 1990-2015: 25 years of contribution towards Safer Journalism at a special Asia-Pacific launch event in Sydney. The IFJ is the global voice of journalists representing more than 600,000 media workers around the world.

The report charts the trajectory of the safety crisis in journalism globally, including a regional report card for the Asia-Pacific on the state of journalism safety over that period.

"When the IFJ began collecting records on journalist casualties 25 years ago, one could be mistaken for thinking the Asia-Pacific was a relatively safe place for media. In those early years, the official record of journalists killed each year made single digit figures," the IFJ report said.

Today, the region today ranks as the most lethal places globally to work as a journalist with a total of 571 deaths and regional average of 23 a year. The most likely cause of death for a media worker is shooting; followed by explosions, vehicle accidents, stabbings and bashings.

The report highlights that the Asia-Pacific region is home to the three of the top 10 worst countries for journalist killings over the past 25 years, according to IFJ monitoring which began in 1990. The Philippines is the second deadliest country worldwide with 146 killings in that period, and been the deadliest peacetime country globally. Pakistan, which was the worst ranked country in 2014 in terms of journalist killings, ranks fourth in the IFJ list with 115 journalists killed. India was the third Asia-Pacific country in the top ten, sitting at seventh with 95 journalists killed since 1990. India continues to struggle violence and impunity across the country.

The IFJ general secretary, Anthony Bellanger, who was in Australia for the launch said: "There are many ways journalists are being targeted, often removed from the war theatre, many of whom are victims of organised crime and corrupt officials. It is a recurring finding of our reports that there are many more killed in peace time situations than in war-stricken countries."

The launch also included perspectives on journalist safety from MEAA CEO, Paul Murphy, and Australian freelance journalist, Mark Davis who has reported from many of the Asia Pacific's most dangerous regions.

While the struggle for democracy and freedom of expression has witnessed a massive expansion of independent media and unions in the region, the killings have also spiked.

The worst year on record was 2009 with 152 killings, following the horrific Ampatuan Massacre in the Philippines, which included 32 media workers who were slaughtered in an ambush of a political convoy.
The IFJ said a key issue is the scant consideration to the levels of violence against journalists around the world, with just one of 10 killings being investigated. The lack of action to eradicate the impunity for killings and other attacks on media professionals continues to fuel violence targeting them.

Paul Murphy, MEAA CEO, highlighted the growing challenges to journalism in the region, noting: "When governments show disdain for press freedom, when they grant impunity for the killers of journalists, when they create laws to imprison journalists and their sources for telling the truth, when they put up barriers to the public's right to know – then governments not only undermine democracy but they send a signal that it is ok to target journalists. That is what is happening around the world. It's also happening in Australia."

"We have seen a lack of investigation into the murder of our colleagues such as Roger East, the Balibo Five and Paul Moran. Laws have been created in the past 18 months that criminalise journalists and their journalism. Journalists face lengthy sentences for publishing legitimate news stories in the public interest. Some 21 government agencies can secretly access journalists' telecommunications data to persecute and prosecute whistleblowers. Increasingly, the Australian government is cloaking its activities in secrecy, punishing whistleblowers with prison, and denying the public the right to be informed of what the government is doing in our name."

The IFJ and MEAA continue to work together, along with affiliates across the globe to fight for press freedom, journalist safety and better working conditions, including through the Media Safety and Solidarity Fund, which has provided emergency financial support and press freedom advocacy to journalists and their families in our region. Journalists and media workers should not fear going to work every day.

"Everyone who comes into contact with journalists need to respect their independence. It requires governments to comply with their international obligations by investigating journalists' killings and bringing those responsible to justice," said Anthony Bellanger. - IFJ media release

Image: (L-R) MEAA CEO, Paul Murphy, IFJ General Secretary, Anthony Bellanger and Australian journalist Mark Davis launch the IFJ 25th Killed List report in Sydney. - Credit: IFJ