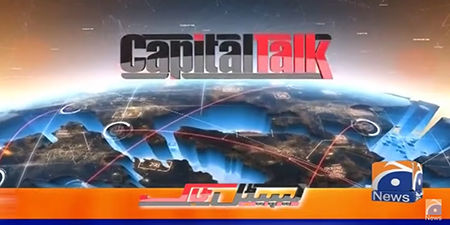 JournalismPakistan.com June 04, 2021


ISLAMABAD—A group of 147 women journalists and allies have released a public statement condemning the removal of Hamid Mir from the airwaves and demanding that the government take appropriate measures to ensure journalists do not have to face such immense pressures for merely doing their job.
The full statement says that the endorsees are "deeply disturbed with the decision to remove Hamid Mir from his flagship show Capital Talk, a mere 72 hours after he spoke at a protest organised by the Pakistan Federal Union of Journalists (PFUJ) on Friday, May 28 in condemnation of the attack on Asad Ali Toor, who was brutally tortured in his home on Tuesday, May 25.
It goes on to express alarm over the sharp escalation of direct, indirect, and covert actions against journalists, which are having a detrimental and silencing effect on news media in Pakistan.
Expressing support with Mir and PFUJ, the statement reiterates the union's demand that "journalists must be allowed to perform their work independently and without intimidation; journalists must be protected from attacks in reprisal for their work; and perpetrators of attacks on journalists, including those who assaulted Toor, must be held accountable."
The endorsees express the concern that the decision to remove Mir from airwaves, while he also faces a continuous hate campaign online, can "create a damaging cascading effect, effectively intimidating others who stand up against continued attacks on media to self-censor or to be pressured into silence by their employers."
The endorsees have called upon fellow journalists, press clubs, media houses, and trade unions to form a united front to call for Mir's reinstatement and "to ensure that no other media worker is temporarily or permanently removed from professional duties without due process."
The women journalists' statement takes note of the increasingly regressive approach to media and demands "that the federal and provincial governments take immediate notice of attacks on journalists, bring the perpetrators to justice, and make their investigation reports public."
The statement comes when media and journalist bodies and allies like Journalist Defense Committee and Supreme Court Bar association are also publicly condemning different incidents of intimidation, attacks, and regulatory threats to media.
After the statement was drafted a frivolous lawsuit was also initiated against Mir and senior journalist Asma Shirazi. The organizers of the petition also stand with Asma Shirazi and strongly condemn the use of such tactics to use law as a way to intimidate journalists into silence.