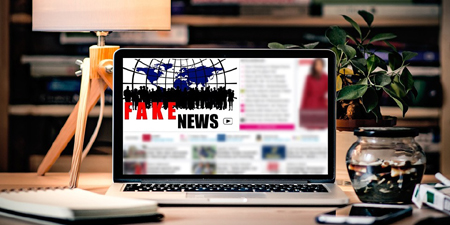 JournalismPakistan.com April 04, 2018


PARIS - Reporters Without Borders (RSF) and leading broadcasters have launched a drive against fake news with a new set of trust and transparency standards for journalists.
The Journalism Trust Initiative (JTI), which hopes to be able to certify outlets and news sources with high standards of ethical norms and independence, is being backed by Agence-France Presse, the European Broadcasting Union (EBU) and the Global Editors Network.
RSF head Christophe Deloire said the idea was that search engines and social media platforms would give preferential treatment in their algorithms to media outlets that met the standards.
He hopes that it will lead to the setting up of a "trusted media label" in a world increasingly assaulted by fake news.

The drive with the EBU, the world's top alliance of public broadcasters, aims to set new standards from individual bloggers to large international media groups.

"In the new public arena in which false information circulates faster than real news, the defence of journalism requires reversing this trend by giving a real advantage to all those who reliably produce news and information, whatever their status," Deloire said.

"We have devised a self-regulatory mechanism based on a global analysis of the news and information, one that makes it possible to combine ethical with economic concerns.

"We are convinced that our initiative will help to foster integrity in the public debate while guaranteeing the broadest pluralism and independence," he added.

Deloire insisted that "white-listed" outlets would not only get greater online visibility, but they were also likely to attract more advertising revenue.

The system would also help with public funding for the media, he said.

The move comes as Brussels is working on a Europe-wide plan to tackle fake news online, worried by Russian meddling in elections across the continent.
Germany has already passed a law threatening social networks with fines of up to 50 million euros ($60 million) if they do not remove bogus reports and hateful posts promptly.

France is also working on legislation to stop such material spreading in the run-up to elections.

AFP's global News Director Michele Leridon said the "battle against the proliferation of misinformation and false news goes to the very heart of our mission… to provide news that is 'accurate, impartial and trustworthy.'"

The agency is a partner in a range of projects tackling fake news and is a member of the EU's group of experts working on the issue of disinformation. - AFP