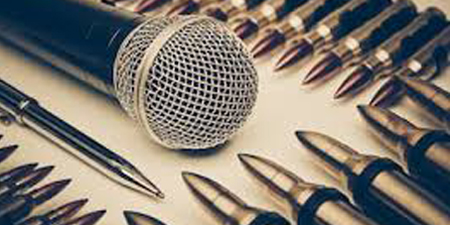 JournalismPakistan.com October 02, 2018


ABBOTTABAD – The Federal Executive Council of the Pakistan Federal Union of Journalists (PFUJ) on Tuesday issued the Abbottabad Declaration that says the new government was ignoring the issue of self-censorship imposed by state institutions.

The declaration says that while the government has no role in this unannounced censorship yet its silence speaks of cooperation in this matter. "Despite widespread protest on this issue, both inside and outside the country, the new government is just ignoring the issue."

The PFUJ said that the government was avoiding confronting the institutions which are systematically trying to silence the print and electronic media through coercion, control on advertisements, harassment and even carrying out attacks on journalists.

"In order to control the media, a state institution has even set up several radio stations as well as television channels through front men while it has even embedded journalists in private channels and print houses," reads the declaration.

It said that distribution of many national newspapers was being hampered in cantonment areas while leading channels are being taken off-air or the cable operators forced to change the numbering of some top channels – all to control the media houses through these coercive methods.

The three-day FEC meeting in Abbottabad noted that journalists were not being allowed to report independently either in Balochistan or in the tribal areas where they are kept away from conflict zones in the name of security.

Dozens of journalists have been harassed, attacked and even killed in Pakistan but the intelligence agencies in this country have not even traced the perpetrators of these attacks.

The house also pointed out that resistance journalism was even dying its natural death because of the prevailing situation and most journalists and media houses have started imposing self-censorship to avoid the wrath of state institutions.

The declaration said that another reason for the debacle of freedom of expression is the corporatization of the media. The media owners have taken charge as editors and chief editors and thus the institution of editor which has played an essential role in the freedom of press and freedom of expression has been eliminated.

The meeting observed that the Parliament had failed to put up resistance and force the government to ensure freedom of expression without which democracy becomes a farce.

The union leaders and members believe that journalists in particular and the society as a whole are scared of elements either holding guns or claiming to be religious godfathers. The meeting said that the judiciary had provided no relief to journalists in cases where media workers have been kidnapped, harassed or physically attacked.

The PFUJ called on all political parties present in the National Assembly and Senate to form a parliamentary committee comprising members from both houses to consider threats being faced by Pakistani media and the unannounced censorship imposed on media before it is too late.