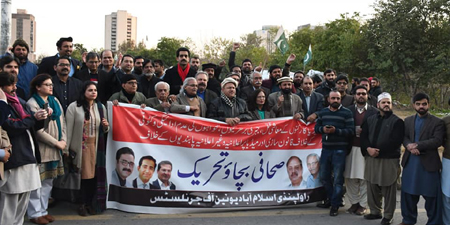 JournalismPakistan.com January 08, 2020


ISLAMABAD—Journalists from across the country on Wednesday gathered in front of press clubs of their respective cities on Pakistan Federal Union of Journalists' (PFUJ) call as part of a countrywide movement to press for their five-point demands.
PFUJ President Shahzada Zulfikar and Secretary-General Nasir Zaidi gave the call for protests in wake of the ongoing media crisis.
The demands include the formation of a Parliamentary National Media Commission, immediate lifting of both announced and unannounced censorships, an end to retrenchment of media workers and the reinstatement of those dismissed, and the unjustified delay and cuts in their salaries.
The demands also include service structure for electronic media and linking the 8th Wage Award with government advertisements.
The unions of journalists that held protest demonstrations in front of press clubs included Rawalpindi Islamabad Union of Journalists, Punjab Union of Journalists, Karachi Union of Journalists, Khyber Union of Journalists, Balochistan Union of Journalists, Hyderabad Union of Journalists, Gujranwala Union of Journalists, Multan Union of Journalists, Bahawalpur Union of Journalists, Sukkur Union of Journalists, Abbottabad Union of Journalists, Rahimyar Khan Union of Journalists, and Faisalabad Union of Journalists.
A large number of journalists and press workers participated in these demonstrations, led by their respective leaders.
President PFUJ, while addressing a protest rally in front of Quetta Press Club, lauded all UJs for successfully holding the demonstrations across the country. "This is our movement and we know how to take it forward till we achieve our objectives."
He said that media was passing through the worst crisis in history, and thousands of workers had lost their jobs in recent times. He said that this was the beginning of the movement and PFUJ would fight for the media rights till the end.
Nasir Zaidi, Secretary-General PFUJ, addressed a massive gathering in front of National Press Club Islamabad and presented the five-point charter of demands. He said the demonstrations were the first phase of PFUJ's 'Sahafi Bachao Tehreek' (Save the Journalists Movement).
"Our next phase will be protest demonstrations in front of all provincial assemblies, commencing in the third week of the ongoing month. Then, the final and decisive phase will be a huge demonstration in front of Parliament House Islamabad on February 12, which journalists from across the country will attend."
Former PFUJ President Afzal Butt, and others spoke at the protest in Islamabad.
Photo courtesy: Aamir Sajjad Syed