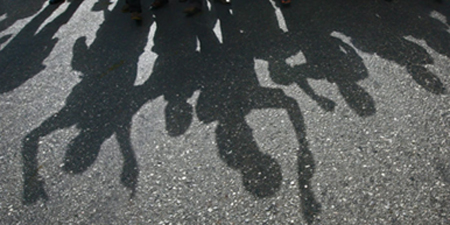 JournalismPakistan.com November 12, 2018


ISLAMABAD - The Pakistan Federal Union of Journalists (PFUJ) has called on journalists to hold protests and meetings on Wednesday (Nov 14) to condemn the raid on Karachi Press Club, and the arrest of a senior journalist on trumped-up charges.
"We consider the raid on Karachi Press Club as a direct attack on the freedom of press and arrest of senior journalist Nasrullah Khan Chaudhry in a fake case as an attempt to create an atmosphere of harassment among the journalists' community," said a joint statement issued by PFUJ President Afzal Butt and Secretary General Ayub Jan Sarhandi.
"This is not what the journalists were expecting in a 'new Pakistan' but the silence of the government over the incident and on the arrest of a journalist in a fake case speaks volumes about its intents."
The statement said that the journalists' community "totally rejects the claim of CTD that the raid on Karachi Press Club was because of some misunderstanding. We believe it was a part of the larger plan to silence the voice of a free and independent institution and the media at large."
Similarly, the statement said, the arrest of a senior journalist is an indication that the government has let loose the agencies to harass journalists to bring them in line.
"Since the establishment of a new government, the press has been put under pressure of every kind," it said. "First the media establishments were financially squeezed and now physical raids are being conducted on institutions that stand for the independence of press and freedom of expression."
Afzal Butt and Ayub Jan Sarhandi also dismissed the fake case registered against Nasrullah Chaudhry.
"The CTD claim that Nasrullah Chaudhry was arrested from Soldier Bazaar in itself is a blatant lie as according to his family Nasrullah was arrested from his residence by plainclothes men," the statement said. "The CTD claim that anti-government and anti-army literature has been recovered from his possession is also a proof that the government had nothing to make a case and an old excuse was used to justify his arrest.
"Let we make it once again clear that the journalist community has been and will forcefully resist any attempt either by the government or any other state institution to impose curbs on the freedom of expression."
The PFUJ leadership called upon all the affiliated unions to also hoist black flags atop press clubs throughout Pakistan.
It is also telling journalists to stage walk-outs from the national and provincial assemblies during their sessions.
The PFUJ leadership also called for all the political parties present in the National and Provincial Assemblies to raise this issue on the floor of their houses.
"We also call upon the civil society organizations to condemn this incident and join the journalists in this countrywide protest."