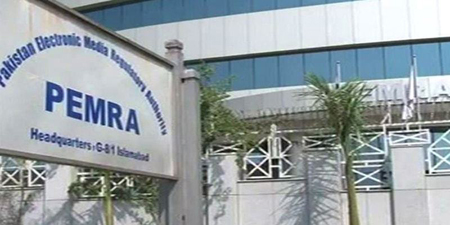 JournalismPakistan.com July 03, 2020


ISLAMABAD—Pakistan Electronic Media Regulatory Authority (PEMRA) on Friday suspended the license of 24 News over illegal transmission.
In a notification, the regulator stated that Value TV holding license for entertainment content was persistently, illegally, and unlawfully airing news and current affairs in violation of PEMRA laws.
PEMRA said, 24 News was provided ample opportunities to revert to its original content. However, the licensee failed to comply with the orders of the authority to switch to its original programming of entertainment.
A show cause notice was also issued on May 7, 2020 but the channel defended its stance and continued airing news and current affairs content.
"A final order is issued today whereby, licence conferred to M/s. Central Media Network Pvt. Ltd. Value TV illegally using the name as 24 News is suspended with immediate effect till the time it reverts back to its original programming mix."
Shahzada Zulfiqar, President of Pakistan Federal Union of Journalists (PFUJ) and Nasir Zaidi, Secretary-General strongly condemned the suspension of transmission and urged PEMRA to immediately withdraw the order as the channel had been operational for a long time and hundreds of employees may face job cuts due to this uncalled for suspension.