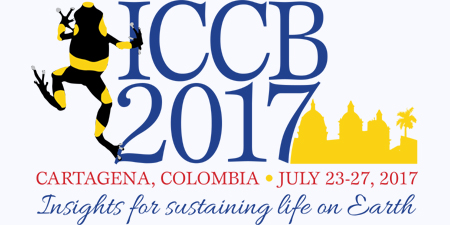 JournalismPakistan.com July 26, 2017


CARTAGENA, Colombia - Ten journalists from all over the world including one form Pakistan have reached Cartagena, Colombia, to attend the 28th International Congress for Conservation Biology (ICCB 2017) under a fellowship offered by the Environment Journalism Network (EJN).
The Congress is a five-day event organized by the Society for Conservation Biology (SCB) that commenced on July 23 and will conclude Thursday.
The EJN has been developed by Internews - a US-based international non-profit organization formed in 1982 - to empower and enable journalists from developing countries to cover the environment more effectively.
The network trains journalists to cover a wide variety of topics, develops ground-breaking digital media sites, establishes networks of environmental journalists in countries where they don't exist, and builds their capacity where they do, through workshops and development of training materials.
The theme of ICCB 2017 is "Insights for Sustaining Life on Earth" and its prime objective is to respond to the need for conservation science to help create a better tomorrow for both biodiversity and people who depend upon it. Around 2,000 scientists including conservation professionals and students, policy experts and government officials are attending the Congress, making it an ideal venue for journalists to cover the latest in conservation research, trends, news and policy.
Some of the major topics in conservation being discussed and presented at ICCB include illegal wildlife trade and traffic, resource extraction, climate change, human-wildlife conflict, regional and national conservation policies, post-conflict conservation plans of the Colombian government, consistent decrease in the habitable areas for wildlife and use of modern technology like drones, acoustic devices, camera traps and DNA barcodes for wildlife conservation.
It was around the start of the year that EJN had invited working journalists, particularly those from developing countries, to apply for this opportunity to spend five days at the ICCB 2017, developing sources and story ideas, networking with other journalists and reporting on news from conservation organizations, governments and researchers.
The organizer SCB is a global community of nearly 5,000 members from over 140 countries dedicated to advancing the science and practice of conserving Earth's biological diversity. For over 30 years, the society has taken science off the shelf by elevating the research of members, using it to educate decision-makers, and provide a forum for practitioners to advance conservation science and practice.
The EJN fellows covering the ICCB 2017 are: Shahzada Irfan Ahmed (Pakistan), Iván Carrillo (Mexico), Vishal Gulati (India), Kata Karath, (United Kingdom), Hans Nicholas Jong, (Indonesia), Fabiola Ortiz (Brazil), Tunicia Phillips (South Africa), Emiliano Rodriguez (Mexico), Christopher Solomon (US) and Wang Yan (China).
Colombia was selected as the venue for a valid reason. It is listed as one of the world's most mega-diverse countries, hosting close to 10 per cent of the planet's biodiversity. Worldwide, it ranks first in bird and orchid species diversity and second in plants, butterflies, freshwater fish and amphibians.