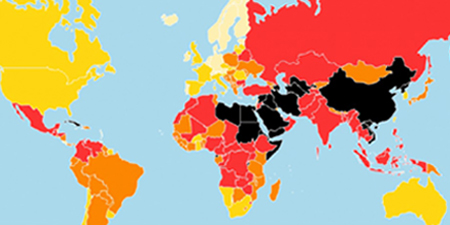 JournalismPakistan.com April 25, 2018


Pakistan showed no improvement in the Reporters Without Borders 2018 World Press Freedom Index and stayed where it was in 2017 – at 139.
The watchdog pointed out that the high level of violence to which reporters are exposed in Pakistan accounts for its failure to rise in the Index.
"What with death threats, abduction and torture, journalists are still threatened by both Islamic fundamentalists on the one hand and by the all-powerful intelligence services on the other," RSF said.
Violence is even more worrying in neighboring Afghanistan (118th), where 18 journalists and media workers were killed in 2017. It nonetheless rose two places in the index.
Similarly, the efforts undertaken in Sri Lanka to combat physical attacks against media personnel and impunity for acts of violence against journalists account for its 10-place rise in the index to 131st.
RSF said that the 2018 index reflects growing animosity towards journalists. Hostility towards the media, openly encouraged by political leaders, and the efforts of authoritarian regimes to export their vision of journalism pose a threat to democracies. – Reporters Without Borders