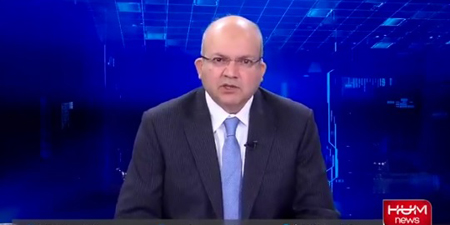 JournalismPakistan.com April 10, 2019


ISLAMABAD – Hum News presenter Nadeem Malik on Wednesday disclosed two phone numbers on live TV which he claims were used to intimidate him after he interviewed former Finance Minister Ishaq Dar.
Calls were made from the two numbers probably out of United States, he said in his program 'Nadeem Malik Live'.
"The day I interviewed Ishaq Dar, I began receiving hate messages from one of the numbers, followed by threatening ones."
Repeating the phone number, he said he was still receiving such messages.
He called on the authorities to track down the culprits and punish them.
"I did not want to disclose these numbers, but when the callers' ill-mannerism crossed all limits, I decided to make them public."
Malik warned the callers to mend their ways and made it clear he was not afraid of them.
"I will continue to name the person responsible for wrecking the economy without any fear."
Malik had complained at the start of the month that activists of ruling Pakistan Tehreek-e-Insaf had trolled him on social media for pointing out the government's economic performance and interviewing Ishaq Dar.