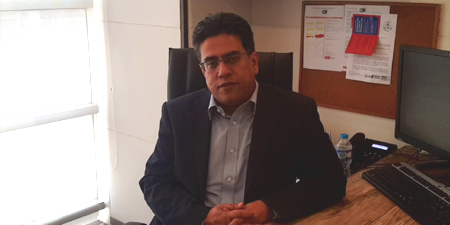 JournalismPakistan.com July 31, 2017


ISLAMABAD – Journalist Kamal Siddiqi (pictured) said Monday Pakistani journalism students now had their own example of Watergate Scandal in the shape of Panama Papers that led to the unseating of the prime minister.
"I am happy to now say that we don't have to rely on Watergate as an example….but that we have our own example in the form of the Panama Papers and how our prime minister was unseated," Siddiqi wrote in his column titled Media misdemeanors in The Express Tribune.
The Watergate Scandal in the 1970s saw the most powerful man in the world resign as a result of investigative journalism conducted by a crack investigative team of the Washington Post.
Siddiqi, a former editor at The Express Tribune and currently the director of the Center for Excellence in Journalism, praised the excellent role played by a group of dedicated journalists that exposed the financial transactions and wealth of world leaders including that of the Sharif family.
He wrote that much of the Panama Papers coverage was done correctly by the Pakistani media. "This is because the judiciary is very clear on ensuring that it is not misreported and its proceedings are accurately chronicled. Possibly one of the most careful reporters in the field are court reporters."
But Siddiqi lamented that the media could not help itself when it came to reporting from outside the courtroom. "The manner in which it not only reported speculations and rumours but also misquoted and misreported on important parts of the case leaves a lot to be desired."
He commented that the manner in which the media reported the events left many wondering what the media's role really is. "We are taught in journalism that we are bystanders, not participants. But in the present scenario, we seem to be everything but bystanders. We are in the thick of things – giving opinions and issuing edicts. More to blame is the broadcast media….there were talk shows in which participants even suggested going against the judiciary's verdict," he wrote.
He called on the Pakistani media to examine its role in such situations, especially now that "we are heading towards a general election in the coming year and we need to set up some code of ethics that can be enforced by all concerned."
Siddiqi said that political reporters may need to be as disciplined as court reporters. "We cannot allow vested interests to dictate the agenda. Much of what is being misreported comes as a result of certain powers trying to manage the media. The rest comes from the lack of experience and competence on part of the reporters themselves."
Image courtesy: YouTube