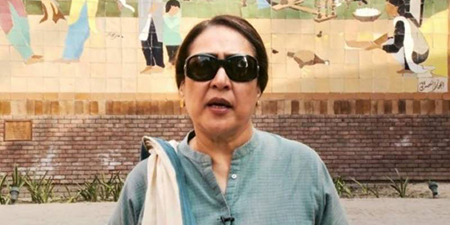 JournalismPakistan.com June 07, 2021 Cherie Conela



LAHORE—Journalist-cum-politician Jugnoo Mohsin has submitted a resolution in the Punjab Assembly to condemn attacks on journalists.
She is the spouse of renowned journalist Najam Sethi, Editor of Friday Times and a former analyst on Geo News.
"What is happening to journalists here is very worrisome," Jugnoo said while seeking attention of the fellow legislators towards growing incidents against journalists.
"Being a journalist myself with a 30-year experience and since my husband Najam Sethi has been attacked, arrested, and disappeared on a number of occasions for his constitutional right to freedom of expression, I know what it feels like. I am speaking for all the families of the oppressed today," she further said.
Jugnoo, in the context of recent assault on journalist Asad Ali Toor and the off-screening of Hamid Mir's show, urged the need to table a resolution for the protection of the free media and for the implementation of the law against those who have persecuted independent journalists.
In the joint resolution with PML-N Uzma Bokhari, she demanded passage of a bill in this regard from parliament. On the occasion, Jugnoo also addressed the Pakistan Tehreek-e-Insaf (PTI) treasury benches, urging them to stand for freedom of expression in the best interest of democracy and democratic set-up.
Mohsin, elected from PP-148 in the 2018 elections, survived an attempt on her life on Monday in Okara when her convoy was stopped by a group of people who damaged vehicles and resorted to firing.
Photo courtesy: Daily Pakistan