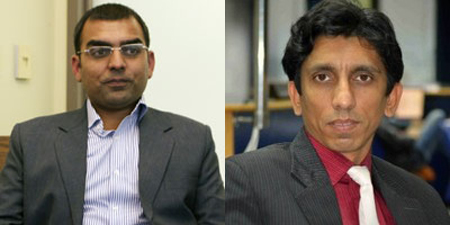 JournalismPakistan.com July 13, 2019


ISLAMABAD — Forced off Twitter almost a week ago, Jang Group journalists Umar Cheema (pictured, left) and Azaz Syed returned to the social media platform on Saturday.
Syed of Geo News Television posted a picture of a clenched fist to announce his return.
"Weather is tough, and road is bumpy but the journey of truth will continue. Back after a short break," he tweeted.
Cheema, who works for The News, and Syed had deactivated their Twitter accounts reportedly after a request by their office, which was pressured by the authorities to ensure compliance.
Often their tweets were hard-hitting, which did not go down well with the authorities.
Their tweets about a video leak involving accountability court judge Arshad Malik upset the officialdom. The two were even asked to delete some of them.
These tweets of theirs only increased pressure on their office, and that led to the deactivation of their accounts.
The Pakistani authorities had earlier complained to Twitter over some of Cheema and Syed's tweets regarding a video scandal that surfaced recently involving Chairman of National Accountability Bureau Justice (Retd) Javed Iqbal and a woman.
However, now both are back to enliven the platform.
Photo of Umar Cheema courtesy: cpj.org