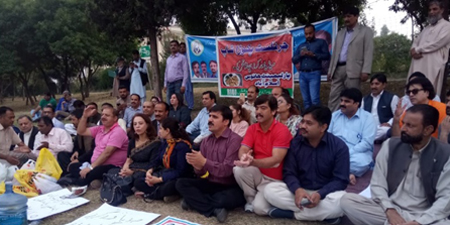 JournalismPakistan.com October 31, 2018


ISLAMABAD – Journalists based in Rawalpindi and Islamabad continued their protest against large-scale terminations of workers for the second day running in front of the Parliament House on Wednesday.
Making and selling pakoras was also part of the protest – an attempt to highlight the economic plight of hundreds of media workers rendered jobless.
The protesters led by Afzal Butt, President of Pakistan Federal Union of Journalists (PFUJ), and Mubarak Zeb Khan, who heads the Rawalpindi-Islamabad Union of Journalists, chanted slogans.
They demanded the reinstatement of workers laid-off and an end to censorship.
Afzal Butt said that journalists were being terminated cruelly which had created serious economic problems for them all. He called on the government to take notice of this, and address the issue.
Mubarak Zeb assured the jobless workers that RIUJ would always stand by them in their time of distress. He pointed out the media owners had created an artificial financial crisis to justify the sackings of employees.
Arif Raza Alvi, Secretary-General of RIUJ declared war on the media magnates who had terminated workers without citing any reason.
Sardar Shaukat Mahmood, President of Rawalpindi-Islamabad Bureau Journalists Association (RIBJA) said that when journalists are left with no choice but to sell pakoras, the country's image gets affected.