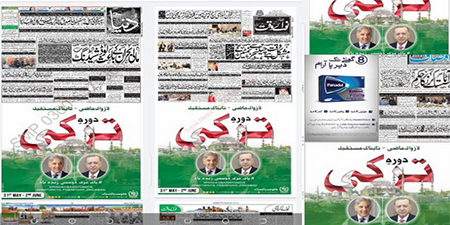 JournalismPakistan.com June 01, 2022


ISLAMABAD—The coalition government has been criticized for giving half-page adverts on mainstream newspapers' front and back pages regarding Prime Minister Shehbaz Sharif's three-day visit to Turkey.
The government had the adverts published in leading English and Urdu dailies, a clear departure from the practice of the previous Pakistan Tehreek-e-Insaf government.
Journalist Mubashir Zaidi was the first to rap the government. In a tweet, he sarcastically told the government the advert would have been much better if the photo of the (air) ticket was also included.
However, journalist Husnain Jamal advised the new government to use digital media instead of advertising in print media.
Journalist Absa Komal wondered why the government, which did not have money to purchase "poison," spends millions on such advertisements. She was referring to a statement by Dr. Musadiq Malik, Minister of State for Petroleum, who said the state did not even have money to buy poison.
Another twitterati Riffat Rashid Abbas said the government may have been able to buy poison only if it had reduced the size of the half-page ads.
DawnNews TV said it did send questions to Minister for Information Maryam Aurangzeb regarding the advertisements but failed to get a response.
Photo courtesy: Twitter (@@AbsaKomal)