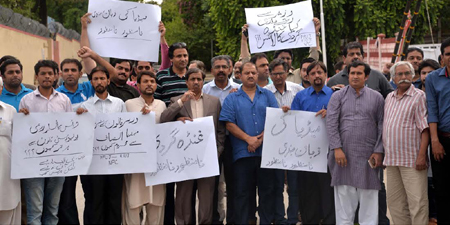 JournalismPakistan.com June 21, 2017


ISLAMABAD - Journalist unions across the country Wednesday held protests against violence on journalists and media workers from Samaa TV, NewsOne, Dunya News, Channel 24, and ARY.
The protesters gathered on the call of Pakistan Federal Union of Journalists (PFUJ) President Afzal Butt and Secretary General Ayub Jan Sarhindi, a press release of Rawalpindi-Islamabad Union of Journalists (RIUJ) said.
In Islamabad, a demonstration was held in front of the National Press Club. The participants included Afzal Butt, club President Shakeel Anjum, Secretary Imran Yaqoob Dhillon, Finance Secretary Muhammad Ishaque Chaudhry, RIUJ Acting President Nasir Hashmi, General Secretary Ali Raza Alvi and others.
Butt in his address demanded registration of cases against vice-chancellor of University of Agriculture, Faisalabad, clergymen of Jamia Haqqania, F-8 Islamabad and other accused of carrying out violence on journalists and media workers and arrest them immediately.
He said case was not being registered against the vice-chancellor of the University for being a close relative of Punjab Law Minister Rana Sanaullah. He alleged the vice-chancellor had ordered the guards to beat up journalists.
Shakeel Anjum asked the PFUJ to announce a movement against the present rulers.
NPC Secretary Imran Yaqoob Dhillon said that even animals have their rights the world over but here in Pakistan inhuman treatment is being meted out to journalists and no action is being taken against the perpetrators.
RIUJ Acting President Nasir Hashmi said they were ready to start a countrywide protest on the call of PFUJ.
Samaa Station Head Khalid Azim while giving details of the Faisalabad incident said the government was not allowing registration of FIR against the vice-chancellor owing to pressure exerted by Punjab Law Minister.
Din TV Bureau Chief Mumtaz Bhatti said terrorism sections had been excluded from the case registered against the clergymen in Islamabad while those arrested were also released. He disclosed that FIR has been registered against 18 persons and action should be taken against them.