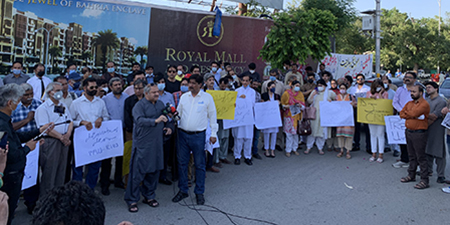 JournalismPakistan.com May 26, 2021 Cherie Conela



ISLAMABAD—Journalists across the country have shown extreme anger and displeasure against the attack on Islamabad-based reporter and blogger Asad Ali Toor.
In this regard, the National Press Club and Rawalpindi-Islamabad Union of Journalists (RIUJ) held a protest. The demonstrators believed that silencing a journalist means silencing society, silence accountability, and silence the truth.
Unidentified men barged into Toor's Islamabad apartment on Tuesday night and beat him black and blue.
Several television presenters, journalists, civil society, and political figures condemned the attack. They showed solidarity with the assaulted reporter.
Iqbal Khattak of Freedom Network said that Islamabad had transformed into one of the dangerous cities for journalists. He said that the purpose was not to kill the journalist but to deliver a message from invisible powers. "As we have 'controlled democracy' so is the 'controlled attack.'"
Dr. Danish, a TV anchor, said it was becoming hard to speak the truth in Pakistan. Senior journalist Mujeeb-ur-Rehman Shami tweeted that those who make the capital insecure should be booked immediately.
Imtiaz Alam, Secretary-General SAFMA, condemned the incident, acknowledging that Toor is an honest and brave journalist.