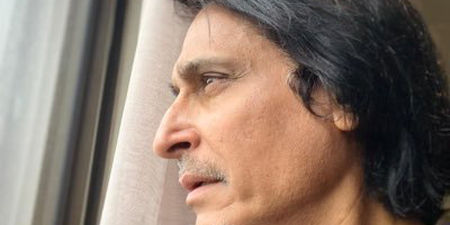 JournalismPakistan.com April 27, 2019


ISLAMABAD - Journalists went after former cricketer and commentator Ramiz Raja after his angry tweet where he blames former rulers for the ills plaguing Pakistan, and also the people for electing them.
Raja said: "What's gone wrong with our tv political shows and anchors? They have lost it-showcasing opposition's morbid views who on their watch had f….d up Pakistan. If public is feeling the "price pang" it bloody well deserves it for voting them in power for 10 yrs.#horchuppo"
Journalists were quick to pounce upon Raja.
Public News presenter Owais Tohid advised him to stay away from politics. "Our generations of 70's & 80's were huge fan of your brother Wasim Raja. Fond memories of Wasim; highly talented, highly educated & a politically correct man. Sadly you lack all those qualities, poking nose in a field of politics which you know nothing about is unfortunate."
Umer Cheema of The News said here comes another genius from the world of cricket, taking a dig both at the prime minister and Raja. "UmYet another genius from the world of cricket."
Analyst Mazhar Abbas also advised Raja to stay away from politics. "Ramiz, don't try to change your batting order and let the Captain do the job. You are good where you are. Enjoy your life."
However, Ramiz Raja shot back. "As a citizen think I can have an opinion on anything &verything including politics. Also with 22 yrs of international tv experience I can comment on the state of TV channels & shows. Political shows are mostly negative, agenda driven, lacking solid editorial & political intellect."
Dunya News journalist Khawar Ghumman agreed with Raja. "Certainly, you can. Everybody as the right to express his/her views. One may agree or disagree."
Photo: Twitter (@iramizraja)