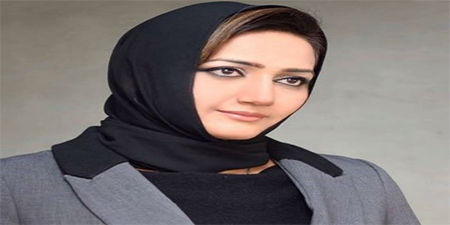 JournalismPakistan.com July 20, 2021


ISLAMABAD—Television presenter Asma Shirazi has said journalists are the guardians of Pakistan's ideological borders.
"If we (journalists) are party to something, it is the constitution of Pakistan, the democracy of Pakistan, parliamentary democracy of Pakistan. Because we are the guardians of the ideological borders of Pakistan," she said in an interview with VOA Urdu.
Asma is in the United States these days.
The interview focused on the difficulties she faced as a journalist, especially during the present government of Pakistan Tehreek-e-Insaf.
She maintained that an atmosphere of suppression had been created in which people are discouraged to think about and exercise their constitutional rights, including human rights and parliamentary democracy.
Anyone who raises a voice against this narrow and suppressive thought process is made controversial. Every effort is made to discredit them, she said while answering an allegation that she backs the opposition Pakistan Muslim League-Nawaz, especially former Prime Minister Sharif and his daughter Maryam Nawaz.
How difficult is it to be a journalist during PTI's rule? She said it is not very difficult provided "you want to become a journalist," but added that right now, there are very few real journalists left in Pakistan. Then she alleged that most journalists are "working on agendas" and "they have become spokespersons of political parties."
She pointed out that independent journalists in Pakistan who vie and work for truth are few.
However, Asma seemed to be contradicting herself when asked about falling standards of journalism in Pakistan. She added that journalists opposed to the sitting government in Pakistan are intentionally tied to the opposition parties. Then she again maintained: "But yes, there are many who have become propagandists. They work to promote a certain narrative. They are not journalists."
She said that media houses take sides in the political fray everywhere in the world. "Globally, neutrality does not exist anywhere. There is authoritarianism everywhere. Dictatorship and dictatorial thoughts have been supported. Especially in the post-Covid situation."
Asma added that self-censorship is the biggest danger to journalism in Pakistan. On social media trolling, she said in the early days she was worried, but now she is no more afraid of it. On the PTI government, she said the "hybrid regime" had exposed many people, which is a positive. However, this hybrid regime has also imposed self-censorship. "Journalists are living in an atmosphere of fear" in Pakistan.
Photo: Twitter (@asmashirazi)