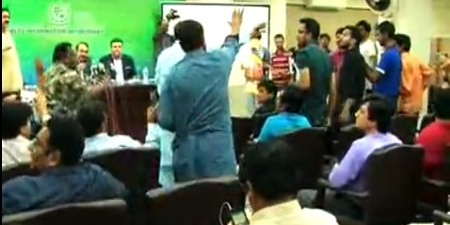 JournalismPakistan.com July 23, 2017


ISLAMABAD – Journalists on Sunday disrupted a news conference by PML-N leaders in protest against the delay in registration of FIR against officials of an investigating agency who manhandled and harassed a female reporter.
Tariq Fazal Chaudhry, Minister of State for Capital Administration and Development Division (CADD), and MNA Daniyal Aziz were addressing the news conference at the Press Information Department (PID).
The journalists shouted 'shame, shame' and termed the delay in registering FIR as denying justice. They demanded immediate registration of FIR. They said the incident happened within the premises of Pakistan Institute of Medical Sciences (PIMS) which comes under the jurisdiction of CADD, thus it was their responsibility to take action against the perpetrators.
Saba Bajeer, a reporter with Channel 24, was manhandled, threatened, and harassed by FIA officials and family members of SECP Chairman Zafar Hijazi at PIMS on July 21.
She was on an assignment to report on Hijazi, brought to the hospital after being arrested by FIA for tampering with records of Prime Minister Nawaz Sharif's businesses.
The minister later assured journalists that the FIR would be registered within 24 hours.