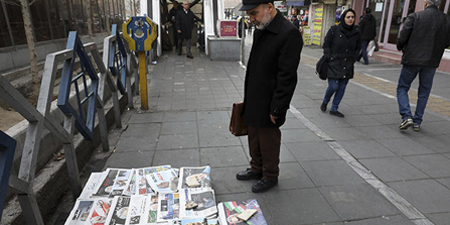 JournalismPakistan.com April 01, 2020


WASHINGTON, D.C.—The Committee to Protect Journalists has expressed concern over Iranian authorities' decision to suspend all newspaper printing and distribution in the country, where newsgathering and distribution is already tightly restricted.
Iran's Coronavirus Combat Taskforce issued a decree suspending all newspaper printing, delivery, and distribution, citing the need to reduce the spread of the COVID-19 pandemic, according to news reports and the decree, which was reprinted by local outlets.
The decree was delivered to staffers at newspapers throughout Iran via text message yesterday afternoon, local journalists told CPJ on the condition of anonymity, citing fear of reprisal. The decree did not indicate when the ban would be lifted.
"Iranian authorities must contain the spread of the COVID-19 virus, but they must also recognize that the flow of news and information is a vital part of that effort, rather than a hindrance," said Sherif Mansour, CPJ's Middle East and North Africa program coordinator. "We call on the government to ensure that journalists can safely gather and distribute news in as many media as possible. Lifting internet restrictions would be an excellent way to offset the ban on printing."
Since March 17, authorities in Yemen, Oman, Jordan, and Morocco have imposed similar bans on newspaper printing and distribution, as CPJ has documented.
The coronavirus taskforce operates under both President Hassan Rouhani's administration and the Supreme Leader's office, according to news reports.
The decree states that "print media in Iran can continue their work online and on social media." However, when CPJ reviewed major national newspapers' websites today, the only paper that published a full digital edition appeared to be Iran, a paper that is supervised by the president's office.
Abbas Abdi, the head of the Tehran Journalists Association, a local professional group, called the decision "a damage to the media" in the country, according to U.K.-based outlet Iran International.
A reporter who covers social issues for the reformist Shargh Daily and spoke to CPJ anonymously said, "I disagree with the decision because many of us don't have any other income or support, we may even lose our jobs. Also, print papers have such a vast audience that online or social media necessarily doesn't have."
At least 2,900 people have died from the virus in Iran, according to official estimates.—A CPJ news alert