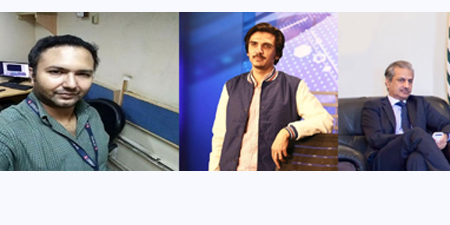 JournalismPakistan.com September 24, 2020


Journalists Asad Toor (pictured, center), Bilal Farooqi (left), and Absar Alam have all been charged with sedition between September 11 and 16 for publishing allegedly 'objectionable' and 'derogatory' material online.
The charges have been set under Pakistan's sweeping 2016 Prevention of Electronic Crimes Act (PECA).
The International Federation of Journalists (IFJ), along with its Pakistan affiliate, calls on the authorities to reign in the broad powers of this Act to ensure no journalists are charged solely for criticizing government officials and institutions.
The PECA drew criticism before its implementation due to its secretive conception, and once implemented, sparked grave concerns over its criminalization of speech and the unchecked powers it gave to authorities to both curtail and prosecute it.
The law was supposedly created to "check extremist content, prosecute hate speech, and curb online harassment of women." But it has had far-reaching implications above and beyond these pursuits, such as Section 37, which gives "unbridled powers" to the Pakistan Telecommunications Authority to restrict freedom of expression by blocking/removing online content.
Asad Toor was charged on September 12 after a public complaint citing that Toor had "used derogatory language to refer high-level government institutions, including the Pakistan Army."
The First Information Report (FIR) detailing Toor's offenses states he had breached PECA's Sections 499 on defamation, 505 on statements conducing public mischief, and 20 on offenses against the dignity of a person, to name a few.
Farooqi was detained on September 11 following a complaint claiming that resulted in an FIR claiming he had "defamed" the Pakistan Military on social media.
Similarly, Alam faced an FIR for allegedly using derogatory language against "state institutions and personalities." Both Farooqi and Alam were charged with sedition under PECA's Section 20.
Prosecuting journalists for fulfilling their role as a check on government powers and a critical voice of government institutions is inherently undemocratic. Pakistan's freedom of speech and its ability to function as democracy is much threatened by the implications of these sedition charges and their associated legislation.
The PFUJ Secretary General Rana Muhammad Azeem said: "The PFUJ believes in freedom of speech & expression and urges the authorities to be cautious and have thorough investigations before charging any media person, in accordance with the law of the land."
The IFJ said: "The ruling party must reconsider this broad and sweeping legislation that has been shown to give the government the power to remove critical voices from public discourse. These recent sedition charges will undoubtedly influence the work of journalists in Pakistan and push the country's media into passive submission. Journalists need a safe environment to both criticize and hold government officials and institutions accountable or democracy cannot function."—IFJ media release