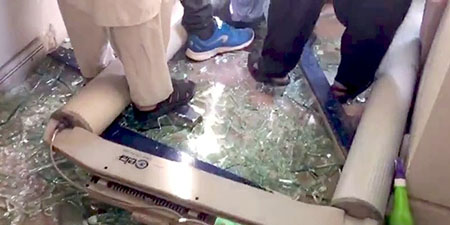 JournalismPakistan.com February 25, 2021


The International Federation of Journalists (IFJ) on Thursday expressed concern over last week's attack on the office of Geo and Jang media group in Karachi.
"The IFJ expresses its concern over the actions of protesters who attacked the Geo-Jang media group and the lack of police presence as this publicized protest turned violent," it said.
IFJ said it welcomes the swift action by the anti-terrorism courts and calls for an urgent investigation into the handling of the matter by police on the ground at the time of the protest.
The central offices of the Geo and Jang media group vandalized by a group of protesters from the Sindhi community on February 21, in retaliation over a satirical segment aired on the network.
The mob reportedly angered by the airing of a satirical segment by Geo TV anchor Irshad Bhatti in a January 28 broadcast of the Khabarnak program. In the episode, the program presenter interviewed an impersonator of former Pakistan President Asif Ali Zardari—a typical format of the show, where the show's co-host Ali Mir adopts various characters. During the segment, Bhatti introduced the Mir's character as the millionaire leader of bhukhe-nange (hungry and naked) people. He also accused him of exploiting people from Pakistan's Sindh community.
Following a public backlash, Bhatti issued an apology statement on February 21, claiming that his intention was not to disrespect the Sindh province or Sindhi language and clarifying that the program was satire and comedy. His apology statement was shared from his Twitter account also.

In response to the program, the Sindhi communities reportedly planned a peaceful protest in Karachi on February 21. But when the protestors reached the Geo office the protest turned violent, with protesters tearing down a gate and breaking through another main gated entry to the office on Chundrigar Road. During the attack, protesters threw chairs, broke furniture and glass, and allegedly roughed up receptionists, camerapersons, and other staff in the building.

Geo News officials accused police of failing to provide security to the office saying the protest was planned in advance.
Geo News Managing Director, Azhar Abbas, tweeted: "Strongly condemn attack on offices of Geo and Jang. They vandalised the reception area and beat our cameraman and staff. Where is the Govt??"
On February 21, Karachi police filed cases against over 200 people in connection with the attack and on February 22 the administrative judge of the anti-terrorism court remanded 13 suspects in judicial custody for their alleged involvement in the attack. The suspects were booked under Sections 147, 148, 149, 324, 342, 427 and 506-B of the Pakistan Penal Code and Section 7 of the Anti-Terrorism Act.—IFJ media release/Photo: DawnNews TV