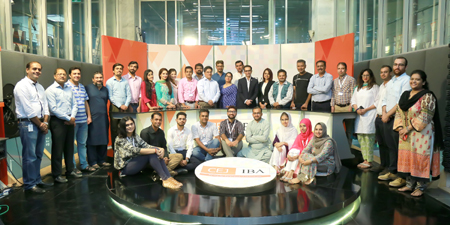 JournalismPakistan.com August 08, 2018


KARACHI - A two-day workshop on humanitarian reporting for journalists concluded at the Centre for Excellence in Journalism on Tuesday.
Twenty-three journalists belonging to media organizations from across the country participated in the training held in collaboration with the International Committee for the Red Cross. The trainer for this course was Mahim Maher, Editor of Samaa Digital.
The workshop covered different ways in which the media can report on humanitarian crises while upholding the code of journalism ethics. Guest speakers humanitarian Faisal Edhi, architect Arif Belgaumi and JPMC Executive Director Dr Seemin Jamali also spoke to the participants about media coverage of mass casualties' incidents.
Dr Jamali shared her insight on how hospitals respond to mass medical crises such as attacks or natural disasters and how media should cover such events. Citing the example of the Chief Justice of Pakistan's recent visit to JPMC, Dr Jamali said the media reported that the emergency ward was smelly and the CJP was only given a tour of the emergency room, when in fact the reality was different.
"The CJP awarded Rs100,000 to JPMC funds after taking a tour of the ER and neuro-trauma department," she said. Dr Jamali added that media officials should question themselves as to why they practice juicy reporting and not report the actual facts. She further said that during a time of crisis such as natural disasters or terrorist attacks, the first responsibility of medical professionals is to attend to their patients and then answer media queries. "Media persons get upset when we delay responding to them," she said.
Architect Arif Belgaumi spoke on how infrastructure is damaged by a disaster. He explained the factors that increase the risk of natural disasters, including climate change, the density of populations and lack of proper drainage. "You can have all the laws of the world but till the time you don't implement them they are of no use," he said.
Belgaumi added that there is no system of checking what kind of material is being used in local constructions, which increases the risks of faulty buildings that could collapse in times of natural disasters or terrorist attacks.
"Earthquakes don't kill people, buildings kill people," said Belgaumi. "After a disaster takes place, the real challenge is not just to build back but build better." He added reconstructions should involve indigenously-sourced materials and traditional construction technologies.
According to him, over the past 20 years, things have really improved in the architecture industry in terms of adhering to standards and using good quality materials.
Humanitarian Faisal Edhi spoke about how first-responders work, rescue missions and relief work take place in disaster-hit areas, and the factors media personnel should be aware of when interacting with rescue officials and victims.
CEJ Director Kamal Siddiqi distributed certificates among the participating journalists. – A CEJ media release