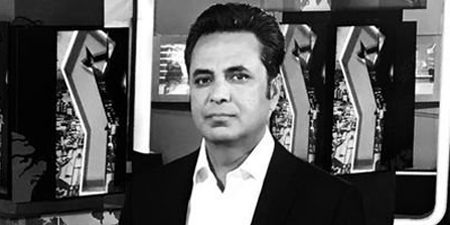 JournalismPakistan.com April 26, 2018


ISLAMABAD - Syed Talat Hussain, who hosts a talk show on Geo TV, on Thursday hinted at leaving the channel after he was asked about Pakistan Tehreek –e-Insaf's decision to end the boycott of the Jang Group.
Saying that he tries to do "fair and balanced journalism", Talat tweeted that there was no need for change in the editorial policy of his show Naya Pakistan. However, if it so happened, he hinted he might leave.
"I try to the best of my abilities to do fair & balanced journalism. Viewers r the best judge. There was/is no reason fr NayaPak editorial line to change & the day Geo/Jang cant allow space for balancd journalsm there wil b no reason for me to continue to appear on their platform."
In an earlier tweet, he said he not part of the Geo-Jang Group journalists who negotiated with PTI. "I was/am NOT part of negotiations with PTI. Have NO idea what has been mutually worked out. I was/am NOT part of any negotiations with establishment. Have NO idea what has been mutually worked out. And frankly I dont want to know. Ignorance is bliss in both these cases."
Zahid Gishkori, a correspondent of Geo TV, wondered what would become of the trolls after Pakistan Muslim League-Nawaz has patched up with ARY News and PTI has ended the boycott of Jang Group.
"Return of the Native: PTI ends Geo boycott - same goes with PMLN which is about to shake hands with ARY, as new political scenes take ground media & political parties find new avenues to grab more followings with new reciprocity. Where would trolls go who kept licking unfair line?"
Photo: Twitter (@TalatHussain12)