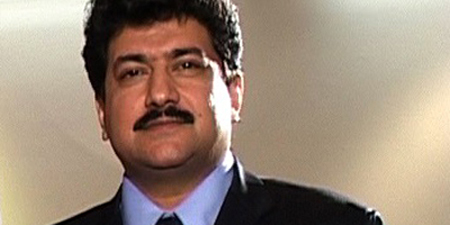 JournalismPakistan.com August 04, 2017


ISLAMABAD – Geo News anchor Hamid Mir Friday claimed PTI MNA Ayesha Gulalai had shown him text messages allegedly sent by party chief Imran Khan.
Mir told Jaag TV he was unable to read the messages as Ayesha held the phone and he could not scroll through the conversation.
"I did not read the messages closely, as I was trying to look at the date they were sent. I did not have the phone in my hand, she was holding it."
Ayesha stirred up a storm Tuesday alleging harassment by Imran. She made the allegations at a press conference in Islamabad and quit the party.
The PTI served a legal notice on her to prove her allegations, or apologize.
"I cannot say those messages were from Imran Khan or someone else. If she claims they were from Imran Khan, she should sit in front of him or show it to some journalist in a program, and show the telephone number also," Mir said.
He thought that an inquiry of some kind should be initiated to settle the matter.