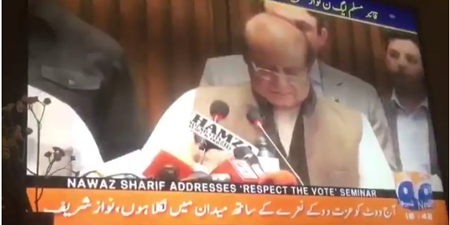 JournalismPakistan.com April 18, 2018


ISLAMABAD – Geo Television and several other channels on Tuesday muted parts of former Prime Minister Nawaz Sharif's speech at a seminar in Islamabad to comply with a Lahore High Court order.
The court on Monday directed electronic media regulator PEMRA to enforce its regulations to prevent the airing of anti-judiciary content by Sharif and his daughter Maryam Nawaz and decide on all complaints against them within 15 days.
Geo presenter Syed Talat Hussain tweeted: "Geo and other channels mute parts (in fact half of it) of Nawaz's speech. This sums up the state of media in Pakistan now — and months ahead. This is censorship without regret, remorse or apology."
There was confusion earlier when the Pakistani media reported the Lahore High Court had banned speeches by Sharif and Maryam. Chief Justice Mian Saqib Nisar clarified that the order does not mention a ban on the two from making statements.