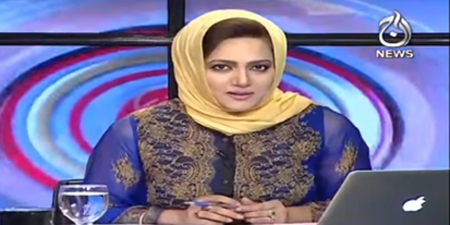 JournalismPakistan.com December 20, 2018


ISLAMABAD - Asma Shirazi, the host of talk show Faisla Awam Ka on Aaj TV, says that journalists are divided and therefore unable to resist gags on press freedom.
"Today Pakistan is facing a controlled democracy, a controlled politics, a controlled economy, a controlled press, a controlled society…," she told Voice of America (VOA) in an interview.
Asma said the press is facing various pressures, but worryingly there has been no tradition. "We have accepted these curbs, which is a worrying aspect for all of us. There is now no resistance."
Mubashir Zaidi, known for his 100-word write-ups published in Jang, interviewed her.
"We are in a difficult situation. We cannot say we are living in a democracy…there are many curbs. There are issues which we cannot discuss."
She also talked about the sackings of the journalists. "The way our friends have been sacked. A witch hunting is going on."
Talking about the sackings of 600 employees by Jang Group, she asked if this was purely because of financial crunch. "They (owners) must have problems, but they are not being managed, or perhaps they don't want to manage them."