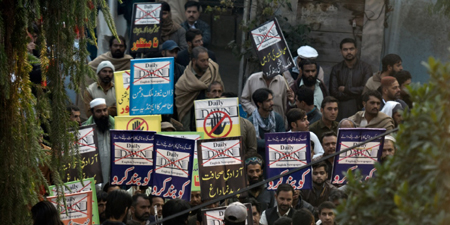 JournalismPakistan.com December 06, 2019


ISLAMABAD — A crowd gathered outside the Dawn office in Islamabad for the second time in less than a week blocking its entrance.
Zaffar Abbas, the editor of Dawn, said on Twitter that the orchestrated demo was bigger this time, and their tone was threatening.
He said that the Dawn management had informed the police, and he hoped that someone from the government would intervene.
"Yet another orchestrated demo against Dawn outside it's office in Islamabad. Same lot, threatening tone, bigger in nmbr & hve blocked entrance. We hve informed police, & hve told them it's their duty to protect our staff & property. Let's hope someone from govt. will intervene!!," Abbas tweeted.
Dawn reported that nearly 100 people arrived in vans and gathered outside the newspaper's office. Police arrived at the scene, but the protesters dispersed on their own after about 40 minutes.
On December 2, dozens of people had blocked the main gates of Dawn after the paper published a headline describing the perpetrator of a terrorist attack in London on November 29 as "of Pakistani origin."
International watchdogs and media organizations had condemned the besieging of the Dawn office and called for action to punish the protesters.
Photo courtesy: @SumairaJajja