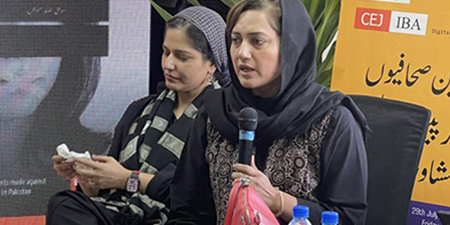 JournalismPakistan.com July 30, 2022


ISLAMABAD—The National Commission for Human Rights (NCHR), in collaboration with the Digital Rights Foundation (DRF) and the Centre for Excellence in Journalism (CEJ), has announced a complaint cell for women journalists.
According to the NCHR Chairperson Rabiya Javeri Agha, the complaint cell will be dedicated to resolving human rights issues that arise from targeting women journalists to ensure the freedom of the press. "Freedom of the press and freedom of the media are cornerstones for any functioning, successful democracy," she stated.
During a consultative meeting held with women journalists to discuss concerns and challenges they encounter while performing professional duties, it was learned that there is a dire need to establish such a complaint cell.
DRF's Nighat Dad thought online spaces were increasingly becoming hostile for women journalists and women. She also pointed out how online freedom of expression has been negatively impacted, including legal restrictions, extra-judicial excesses, online violence and harassment, monitoring, and gendered disinformation against women journalists.
CEJ's director and journalist Amber Rahim Shamsi, while highlighting the impact of online abuse, stated that women journalists face harassment, physical insecurity, the gender wage gap, and mental distress.
Following the women journalists' meeting, the cell was established at the NCHR.
Photo credit: NCHR