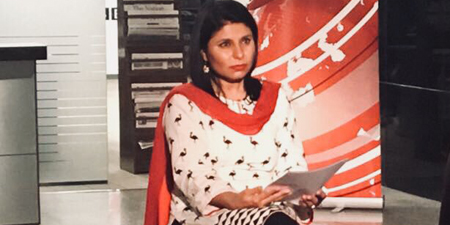 JournalismPakistan.com October 29, 2018


BBC World Service's BBC She project is coming to universities in Pakistan, says a media release.
Following the BBC She discussions earlier this year with young women at Indian universities, the new series between Thursday 1 November and Wednesday 14 November, will focus on what young women in Pakistan want from media.
There are a lot of assumptions and stereotypes of women's media needs – in the region as well as globally. Fronted by BBC's correspondent in Pakistan, Shumaila Jaffery (pictured), the new series of BBC She will invite students to tell the BBC what issues they think need more attention and insight from journalists.
Shumaila comments: "BBC She is about making news content more relevant and interesting to women. Building on the success of the original BBC She series in India, we decided to take our conversation to Pakistan, so we can better understand the media needs of women across the country's regions and social strata, and create content that really matters to them."
The open sessions will take place in universities in:
- Punjab on Thursday 1 November
- Balochistan on Monday 5 November
- Sindh on Friday 9 November
- Khyber Pakhtunkhwa on Wednesday 14 November.
The discussions will feature on the BBC News Hindi, Marathi, Punjabi, Tamil, Telugu and Urdu output as Facebook Lives and digital videos, and as part of TV programming. The BBC's language services will also publish blogs about women's representation in media, written by one student from each university. – A BBC media release/Photo: Twitter (@ShumailaJaffery)