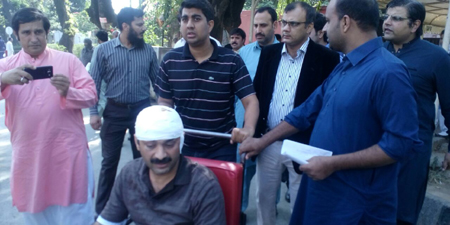 JournalismPakistan.com October 27, 2017


ISLAMABAD – The Rawalpindi-Islamabad Union of Journalists (RIUJ) and National Press Club Friday organized a protest to condemn the attack on The News journalist Ahmed Noorani.
The protesting journalists set a Monday deadline for the arrest of the assailants who beat up Noorani near Zero Point Friday, leaving him seriously injured.
The protesters announced they would set up camp at the scene of the incident and also boycott the Parliament sessions if the arrests were not made by Monday.
Motorcyclists chasing Noorani from Rawalpindi intercepted his vehicle near Zero Point in Islamabad and beat him up. He was later rushed to the hospital where he was treated for injuries to his head and other wounds.
RIUJ President Mubarak Zeb Khan said systematic attempts were being made to silence journalists. He mentioned senior journalists Arshad Sharif, Matiullah Jan, and Talat Hussain, all of whom have been targeted and harassed in different ways in recent weeks.
Shakeel Anjum, President National Press Club, said Noorani was a brave journalist and the attack on him was a test case for the PML-N government.